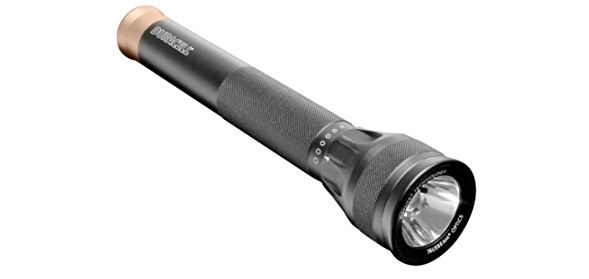 I tried out the Duracell Daylite LED flashlight and am very impressed indeed! The LED flashlight called the Duracell Daylite really throws the light at far distances despite its small size. Here's more about this LED flashlight called the Duracell Daylite. I can say right off the bat that I recommend this product.
More About The Duracell Daylite LED Flashlight
I've never had that much luck with the simple flashlights you get in the store – you know those traditional ones that you put in the kitchen drawer. They never seem that bright, and don't throw enough of a lighted beam around so I can see really that far. So I eagerly anticipated trying out this Duracell Daylite LED flashlight to see just how good it would be to use.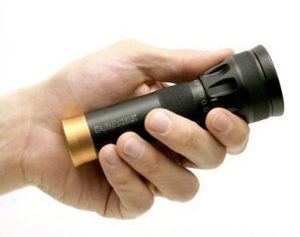 First, I was really surprised about its small size. Look at the picture to see what I'm talking about. It fits easily in my hand, and has a good grip to it.
How is its brightness capabilities in a dark room or outside at night? It uses "TrueBeam Technology" that implements a lens and reflector to project more light (up to all the light produced), which makes it shine brighter than many traditional flashlights, which only capture around 70 per cent of the produced light at the most, according to the product display video at YouTube here
I did four tests on the brightness aspect, and this is what happened:
Many people might not try this, but I did. I turned on this flashlight while looking into the lens and reflector, and I gotta tell I was temporarily semi-blinded, and I wear prescription sunglasses at that! I've had beams of light from car or truck headlights not feel so bright and intense when I see them as I run at night.
Second, I turned it on in a dark bedroom, and this small LED flashlight called the Duracell Daylite really was super bright, as I could see half the room very easily. I tried this with the traditional kitchen light I have, too, and while it threw a beam around half the room, the brightness quality was very dim, probably about 3-4 times less bright compared with the Duracell Daylite.
Third, I went into a dark nook and cranny of my house to try to find a pair of shoes I have in the midst of many pairs of shoes, and again this LED flashlight helped me look through my shoes as if it were daylight. So I conclude that when using this LED flashlight up close, one will get very good lighting.
Lastly, I went outside to test this out in the dark. Again, the Duracell Daylite passed with flying colors. I was able see about 100 feet ahead of me and I had clear views in front of me because of the superior brightness! Now, with a traditional kitchen flashlight, I've noticed that it's almost a waste to use it outside because the bigger an area a traditional flashlight's beam is spread, the dimmer the range of light gets. I only wished I had this Duracell Daylite when I was a kid looking for night crawlers. To me, its adjustable 3:1 "zoom" ratio spot to flood performance (of the 80 Lumens LED flashlight I tested) was just as bright outside as well as inside at either extreme.
As for its durability, I dropped this LED flashlight six feet onto a wood floor while it was turned on, and it stayed on. I whacked it five times against a wooden door, and it stayed on. With those traditional kitchen drawer flashlights, I've had nothing but trouble keeping them on when I accidentally drop them or hit them against something.
In conclusion, the Duracell Daylite is more pricey than a traditional kitchen drawer flashlight, but it's worth the price for what you get in durability and brightness and range of vision. I got the model that uses AAA batteries, and even loading them is an interesting experience, for I had to put them in a carousel like object, which detaches from the inside of the LED flashlight body.
Final Words About The Duracell Daylite LED Flashlight
The Duracell Daylite flashlight is widely available at retail stores. The suggested retail price is $24.99 for ones that use AA and AAA batteries and ten dollars more for those which use CR123 batteries, but you can often get a better deal when these stores have special sales.