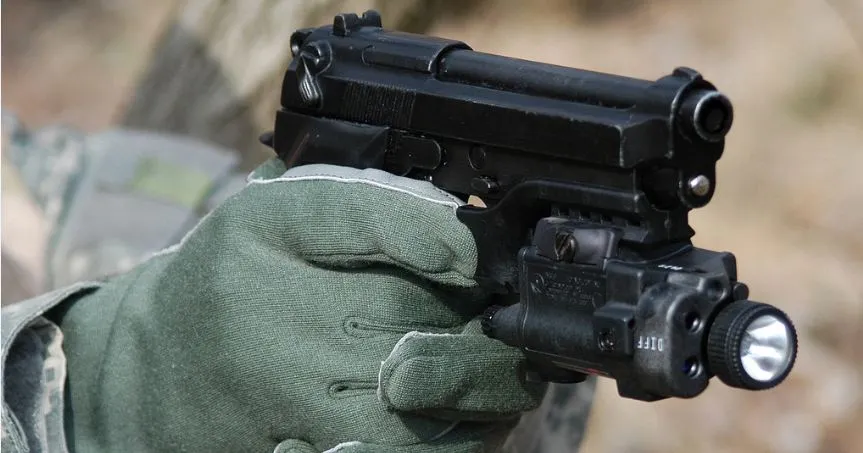 Our Top Choices
Up until rather recently, pistol-mounted lights were awkward, clunky accessories that impeded a pistol's ability to fit into a holster and altered their balance. These were useful and while not extremely convenient, they were still better than having to hold a flashlight between one's teeth while aiming a pistol at a target or threat.
Now, however, pistol lights fit easily onto the rail and with the advent of super bright, yet lightweight, flashlights, pistol-mounted lights are useful, convenient, and an accessory any pistol-owner (and, perhaps, any gun owner in general) should have.
Quick Comparative Chart of the 14 Best Pistol Lights

* Could Not Find The Exact Amount For This Model.
Included in the chart are the following labels:
Title/Brand of Light & A Picture
Lumens – The maximum amount of lumens the flashlight can produce at its highest setting
Weight – The weight of the light with batteries
Length – The length of the light in Inches
Now that you have seen the comparative chart, Let's dive right into each light's in-depth review's!
Top 14 Best Pistol Lights On The Market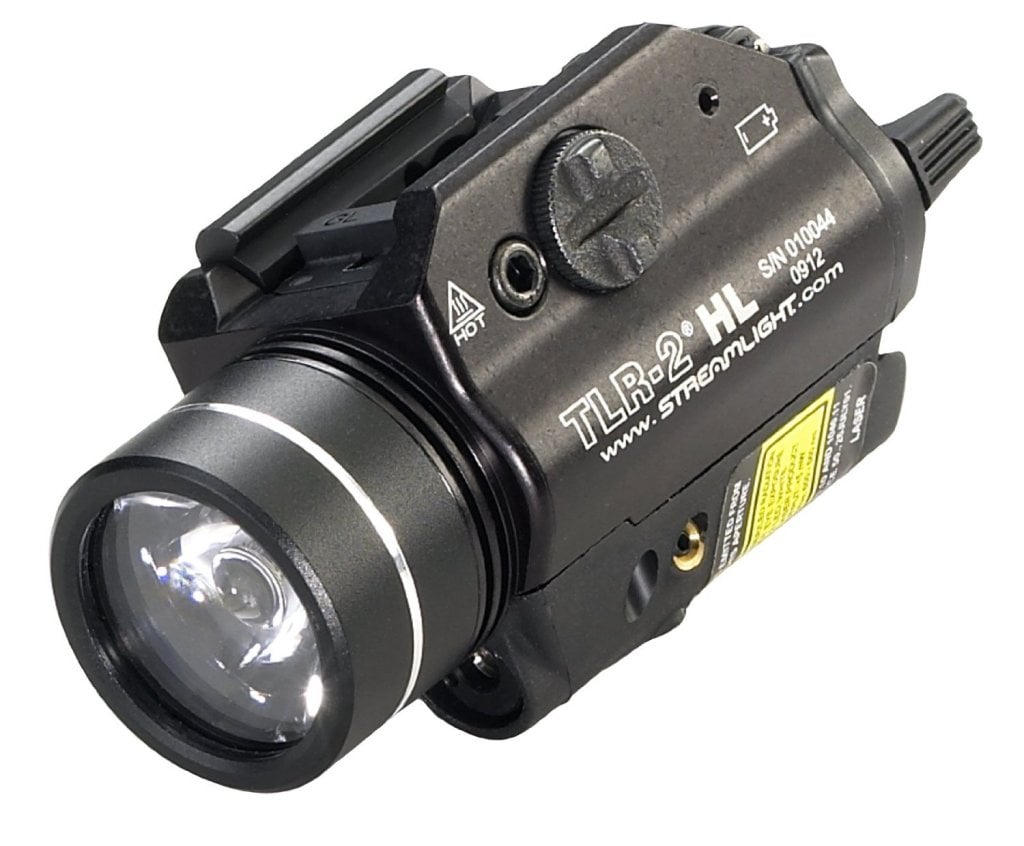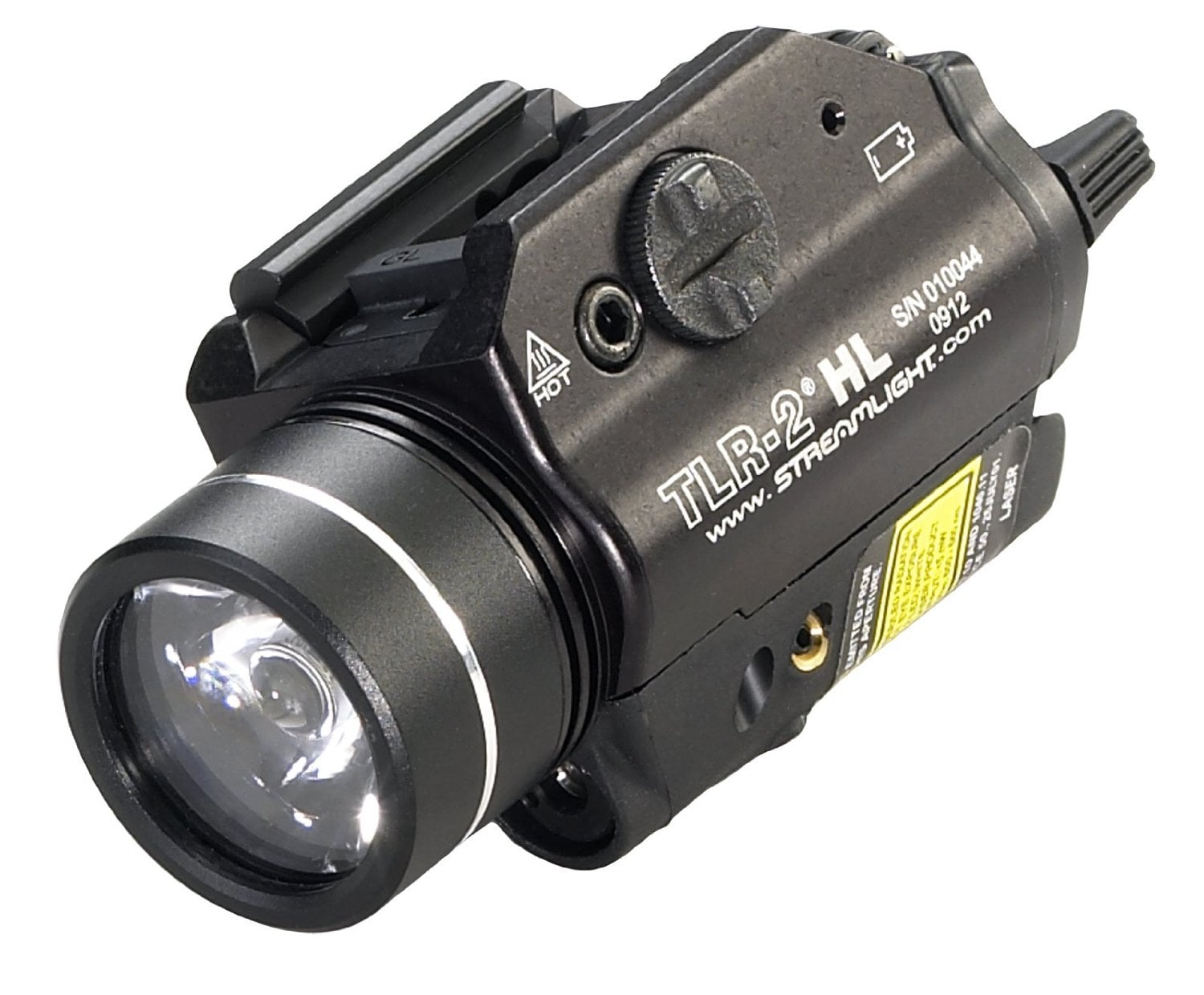 The Streamlight TLR-2 delivers durability, solid performance, and an almost-blinding 800 lumen output. The floodlight-style beam pattern, which allows for a wider area of coverage, is perfect for anyone tasked with searching or assessing large areas. The TLR-2 is easily installed, requiring no extra tools or gunsmithing expertise.
Measuring under four inches in length and weighing 4.7oz, this is a lightweight and compact accessory that will not alter the performance of your weapon, but will definitely enhance it. Additionally, the lens is shock-mounted and made of impact-resistant Boro Float glass. The C4 LED light source is impervious to shock waves and will last 50,000 hours.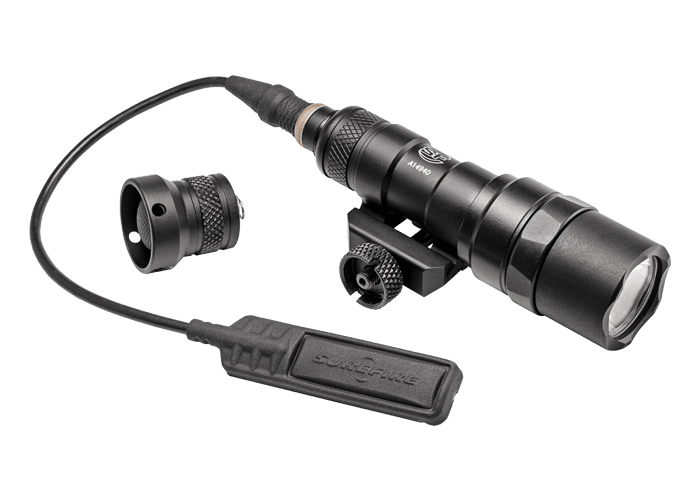 Powered by a single 123A lithium battery.  SureFire Mini Scout is durable, compact, and a great accessory to own. It fits securely to any mil-spec Picatinny rail and has an output of 200 lumens. Making it bright enough to see clearly in the dark. The beam is a bit more focused and tight than the TLR-1, but it has enough surround light to work in a variety of situations, from long-range to up close.
VIDEO | SureFire Scout Light Series
The LED emitter is shock-proof and the body is made of hard-anodized aerospace aluminum. This is a light that will easily stand up to rough-and-tumble situations in both its design and battery life.
Hilight P5S 500 –  Best Pistol Light on a Budget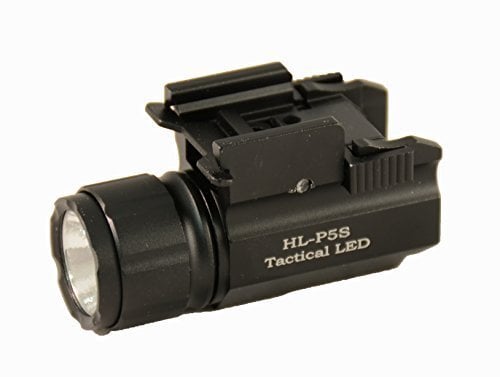 For those on a budget who do not want to sacrifice quality, there is the Hilight P5S. Weighing only 2.8oz and measuring only 2.5 inches long, this little pistol light packs a punch with a maximum output of 500 lumens. The Hilight P5S fits securely to the rail, with minimal movement and no altering of the gun's performance.
The Hilight P5S is very well-made and solid. This pistol light can take quite a beating in the field (though that isn't something you should necessarily set out to test). An especially handy feature is the quick detach system, but what is even more helpful is the fact that the bullets hit inside the hot area of the lightbeam, largely eliminating the need for a laser sight.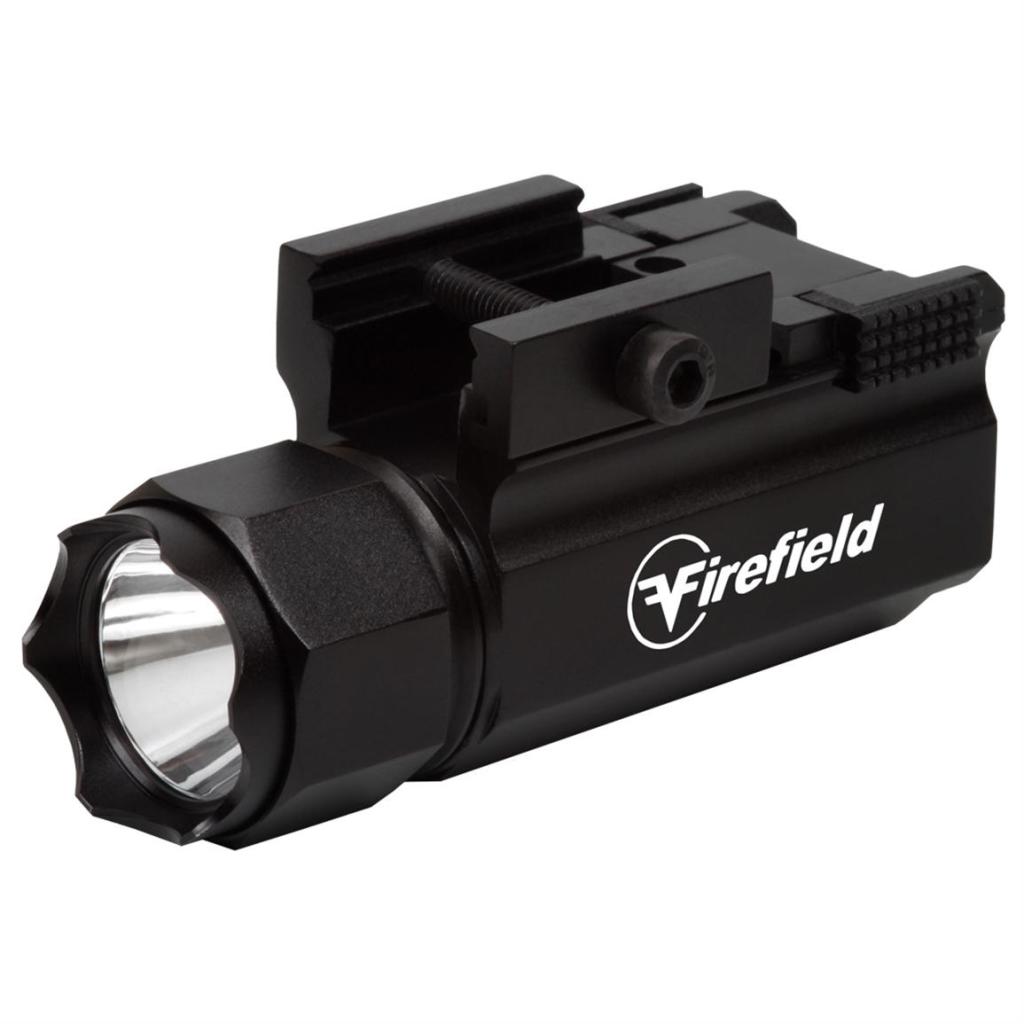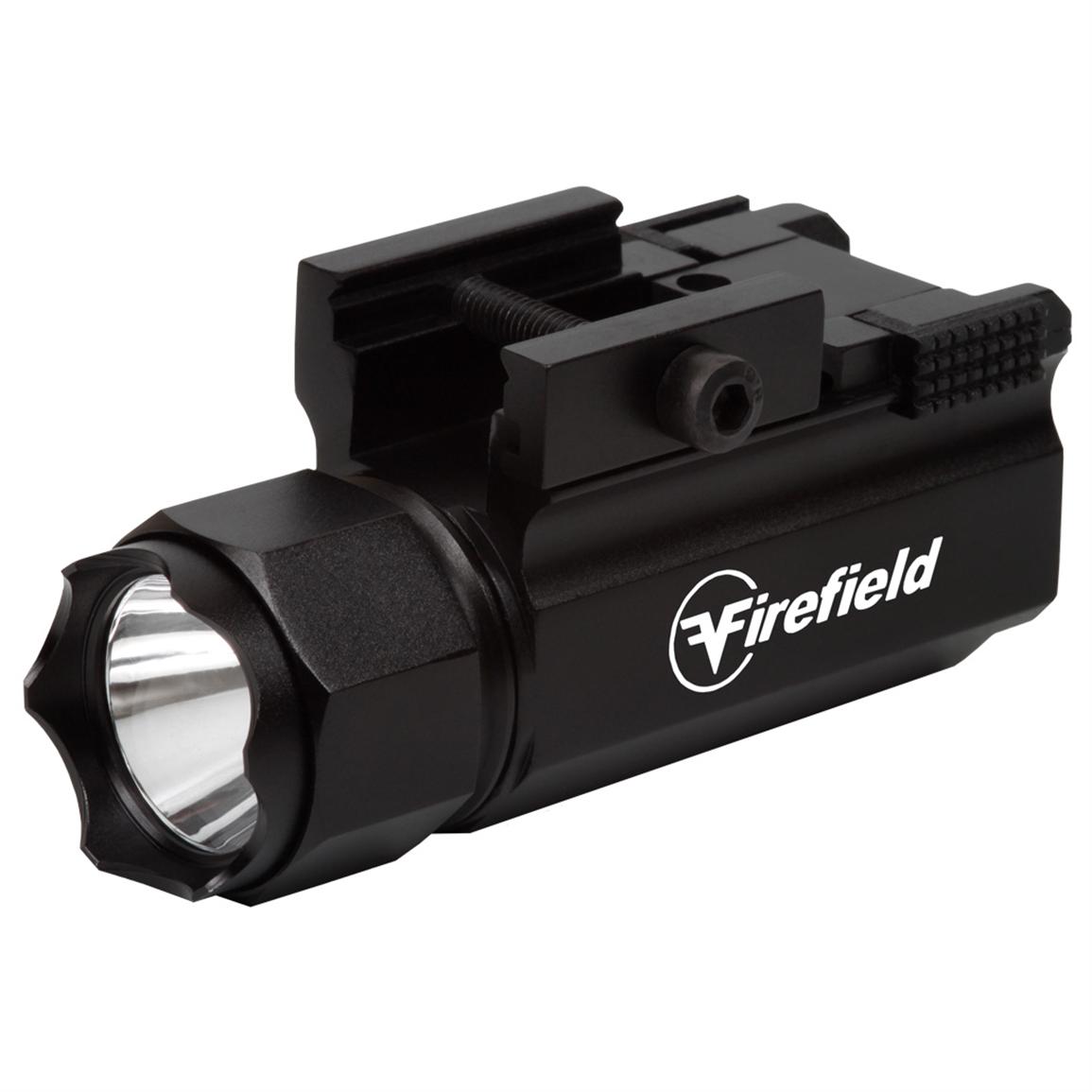 This Firefield Pistol Flashlight is another inexpensive option for those who want to light up the night with their weapon of choice. It has a maximum output of 120 lumens. Runs on a CR123A battery (which is included in the package), and uses a Cree P4 LED bulb that has a lifespan of 100,000 hours.
This is a good basic model for those who do not require a fancy product. But who do want a reliably bright light that will fit well to their weapon and provide enough illumination to make their surroundings visible and let them see where they are aiming.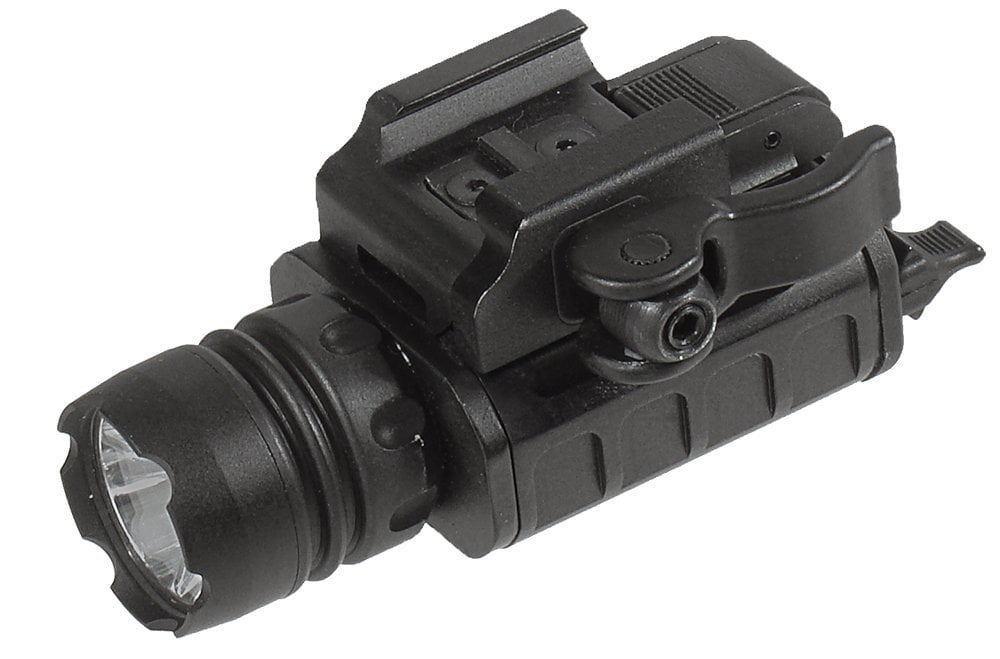 This UTG Tactical Pistol Flashlight has a 23mm CREE LED bulb that puts out a maximum of 400 lumens. This is a product that was made for personal defense and durability.
The front head is designed to be used for self-defense, making the gun to which this light is attached a triple threat—not only could it shoot a threat, but with the light added, it could also blind and/or scare them and, if one used the front head correctly, would give them a concussion or at the very least a painful head injury.
The UTG has a hard anodized finish which enables it to stand up to wear and tear. It is adjustable and adaptable to polymer or metal standard picatinny pistol rails, making it useful for a variety of weapons and self defense situations.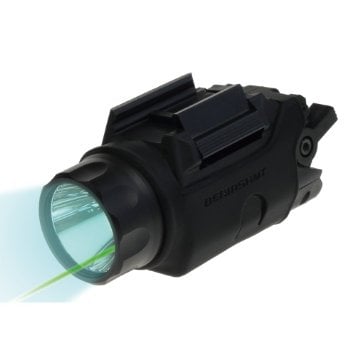 For those willing to spend a little more money, Beamshot offers this laser sight and flashlight combo. (Note: though the laser sight in the picture above is green, Beamshot also makes a red laser sight model.) It features a detachable rail clamp that fits both universal and Picatinny rail systems. A rechargeable battery (that comes with a 10 year warranty). LED power indicator to alert the user of a low battery. Three year warranty for the laser and LED. Strobe capabilities (for when you either want to really scare your target). Along with a 150 lumen maximum output.
VIDEO | BEAMSHOT ® GB9001G Rechargeable Green Laser Flashlight Combo
The unit is protected by a silicon cover and is water and shock-resistant and the package contains a rechargeable battery, USB connection cable, duty holster, and car cigarette charger. Both the LED and laser diode have a lifespan of 10,000 hours and the battery can be charged 1,000 times.
To avoid any accidents in emergency situations, the Beamshot has separate buttons for the laser sight function and the flashlight function. This is a little bit pricier option, but certainly delivers in both its function and its quality and is a great choice for anyone who wanted both a laser sight and flashlight, as combining the two makes readying the weapon much quicker and easier.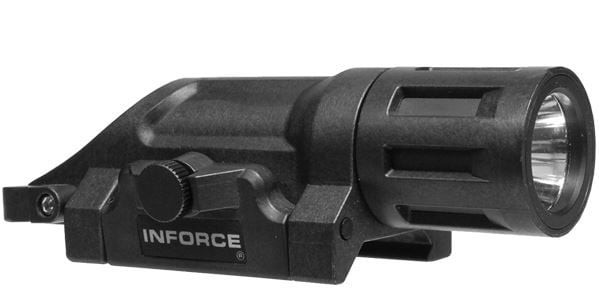 Weighing in at 3oz, this InForce product is one of the lightest and most compact weapon-mounted lights available. The greatest benefit it brings to the user is its ability to switch between white light and infrared modes. The latter of which is extraordinarily helpful if one is wearing night vision goggles.
VIDEO | InForce WML Weapon Mounted Light Demo
The InForce is well-built, has a 200 lumen maximum output, the on/off switch is easy to reach from a multitude of angles. Includes a strobe mode, and is definitely a sturdy, compact, and lightweight weapon accessory for any gun.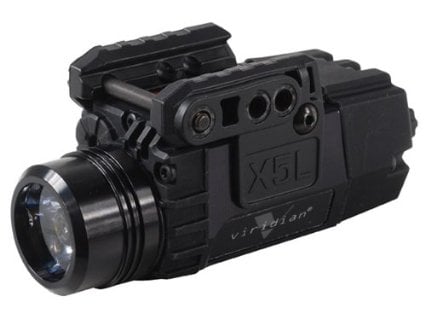 The Viridian X5L is not cheap but it is definitely one of the best products available. Made primarily from aircraft-grade aluminum (its front and rear covers are made from high-strength Zytel polymer). This is one laser light combo that will stand up to the toughest conditions with ease.
Measuring 2.84" long and weighing 3.3oz, the Viridian X5L is compact and lightweight and locks tightly into place. Once this product is attached to the weapon, it won't alter its performance, weigh it down, or rattle around and fall off. The unit comes with a multitude of user-selected options, such as the ability to customize the laser pulse rate, tactical light strobe rate, and light output.
VIDEO | Veridian X5L Universal Green Laser/Tactical Light
Its universal mounting system means that it fits easily to the majority of railed handguns and rifles. Additionally, this model is extremely battery efficient. It uses just one CR123A 3v lithium battery (which is included) that has will last 6 hours with constant laser runtime. Over 10 hours of pulsing laser runtime, and 1 hour of both laser and light runtime.
The Viridian X5L is a great product for those that need or desire a more sophisticated product with the convenience of a laser sight and tactical flashlight combo that is easy to attach.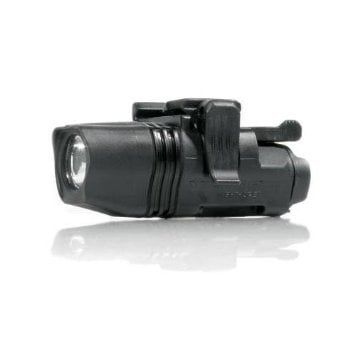 The XiphosNTx has a maximum output of 90 lumens. Features a strobe mode, and has an impressive battery life of 2 hours. It installs easily and quickly onto almost any weapon without using tools. Including those with Picatinny rails and universal rails, among others.
The XiphosNTx uses a high-impact LED that resists damage from recoil and drops. Featuring a black anodized aluminum body that resists corrosion and is water-resistant to 10 meters. Weighing only 2.5oz and measuring 3.1 inches, the XiphosNTx is compact and lightweight, meaning that it will not alter the performance of the weapon.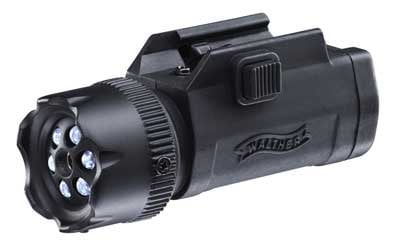 The Umarex Night Force fits both Weaver and Picatinny rail. Great product for those who need a pistol light laser combo. The light is made of 6 LED bulbs with a maximum output of 36 lumens; the red laser is a class IIIa with less than a 5mw output. The unit includes adjustment options for windage and elevation.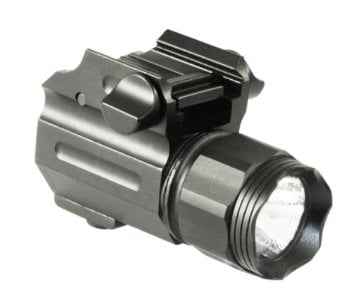 This AIM Sports Sub-Compact Pistol Flashlight is another inexpensive option for the person in need of a pistol light. It fits most subcompact pistols that have a rail. Its body is made of aircraft-grade aluminum and it has a maximum output of 150 lumens.
This particular flashlight accessory is interesting in that it comes with three color filtered lenses so that it adapts to a variety of scenarios and environment.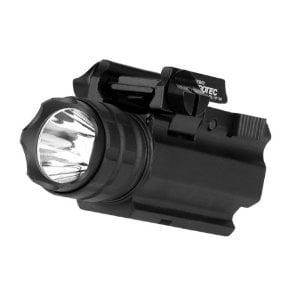 Nebo offers an extremely powerful light that has a maximum output of 190 lumens and an incredible 3 hour battery life on a single CR123A. It measures 3.375 inches long and weighs 4.8oz. This is a great product for home defense, such as investigating things that go bump in the night.  Not the best product for in-the-field situations.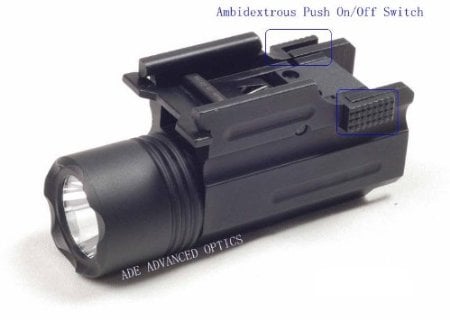 Made of solid anodized aluminum and sporting a super-bright, almost-blinding 200 lumen CREE C4 LED bulb, this Ade Advanced Optics weapon light fits most compact pistols as well as full size pistols. It can also be used as shotgun light as well as on rifles that have a Picatinny or weaver rail.
It fits tightly and securely to the rail with remains firmly in place while the weapon is being fired. Does not add excess weight. This flashlight is a great bargain for the quality of the construction and the surprising brightness of the light.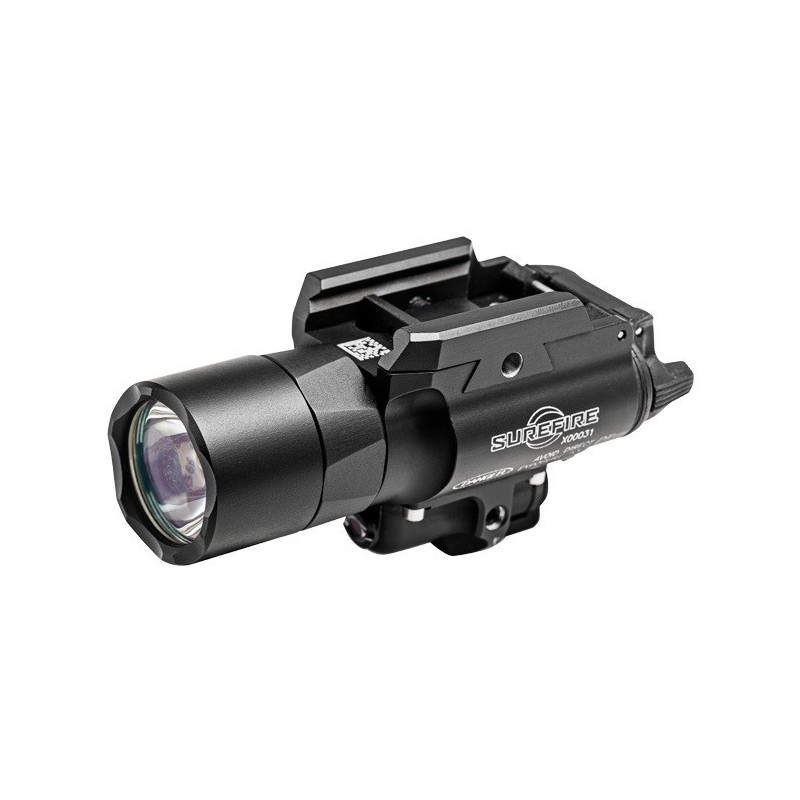 For those with either money to burn or a need for some serious equipment (or both!), there is the x400 Ultra from SureFire. Which entered the market in 2014, and it is an absolute beast. It has visible mode, which uses a 1000 lumen white light and a 5mW laser light.
It fits on both standard pistol rails and M1913 rail systems. x400U is IPX4 rated for splash protection and, for those that care, is manufactured in the USA.
The white light has a range of 213m. The SureFire X400U uses two CR123A batteries and has a battery life of up to 1.75 hour. It is also incredibly durable, made of mil-spec hardcoat anodized aircraft aluminum. Extremely compact, weighing 4.9oz and measuring 3.7 inches in length.
The only major downside is (obviously) the price. But for many people, that kind of price tag is acceptable for the quality, versatility, and peace of mind. (Please note that this is an ITAR product, which means that it cannot be sold to anyone outside of the United States.)
Conclusion
If you are ever in a situation where you need to use your gun at night, a pistol light (or weapon light, if your gun of choice is not a pistol) is almost essential. Not only does it aid your ability to see your target and take accurate aim, but the bright light, especially when using the strobe mode, has the potential to blind and scare threats into backing off or running away without you having to expend any lead at all.
I hope you liked this article. Also hope that it has helped you in choosing the best pistol/weapon light for your needs!