Our Top Choices
As a child, there is nothing better than staying up late and playing in your fort or exploring your backyard once the sun goes down. Of course, this is only fun if you have a handy flashlight to help you see all the wondrous things that come out at night.
You might be thinking that a flashlight is a flashlight, but there are surprisingly quite a few things to consider when buying a light for your child.

For example – do you want a headlamp, a flashlight on a rope, or maybe the latest Melissa & Doug flashlight? The options are practically endless when it comes to kids' flashlights, which is why we decided to create the ultimate guide to finding your child's next flashlight.
We are going to walk you through some of the best flashlights for kids out on the market. And regardless of your child's age (or your budget), the perfect flashlight for your kid will likely be outlined below.
Best Flashlight for Kids – Overall
Let's jump right into it with the best all-around flashlight that your child will love just as much as we do.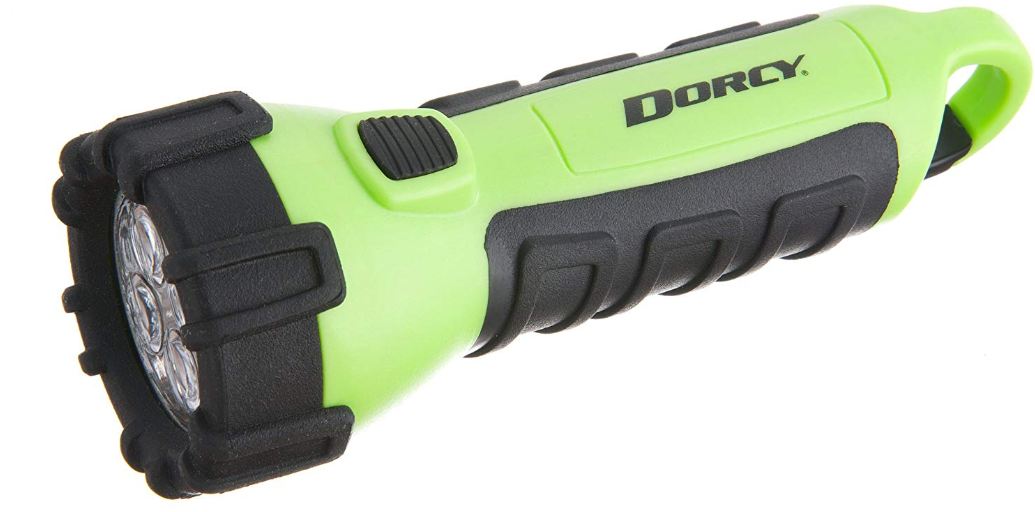 The Dorcy is a rugged, powerful flashlight that can handle any outdoor activity such as camping, flashlight tag, or looking for dew worms. This is an adult-like flashlight that is jam-packed with LED lights that provides 55 lumens of light. In simple terms – this flashlight is seriously really bright.
VIDEO | Dorcy Floating Waterproof LED Flashlight Review
On top of the brightness, it is also impact-resistant and waterproof. In fact, if your kid happens to drop their flashlight in the lake, the Dorcy will just float around waiting for you to collect it. No jumping into the water to retrieve this one from the depths. Trust me, you will love the floating feature when this happens to you!
Pros
Rugged and impact-resistant

Waterproof

Extremely bright

Built-in carabiner clip for easy carrying

Easy to operate
Cons
Doesn't have a fun, kid-like feel to it

Not meant for diving underwater




---
Best Flashlight for Kids – Budget
Let's face it, children aren't always the most responsible when it comes to their toys. As such, it makes sense not to re-mortgage the house on your child's next flashlight. Here is the best flashlight we found that didn't come with a high price tag.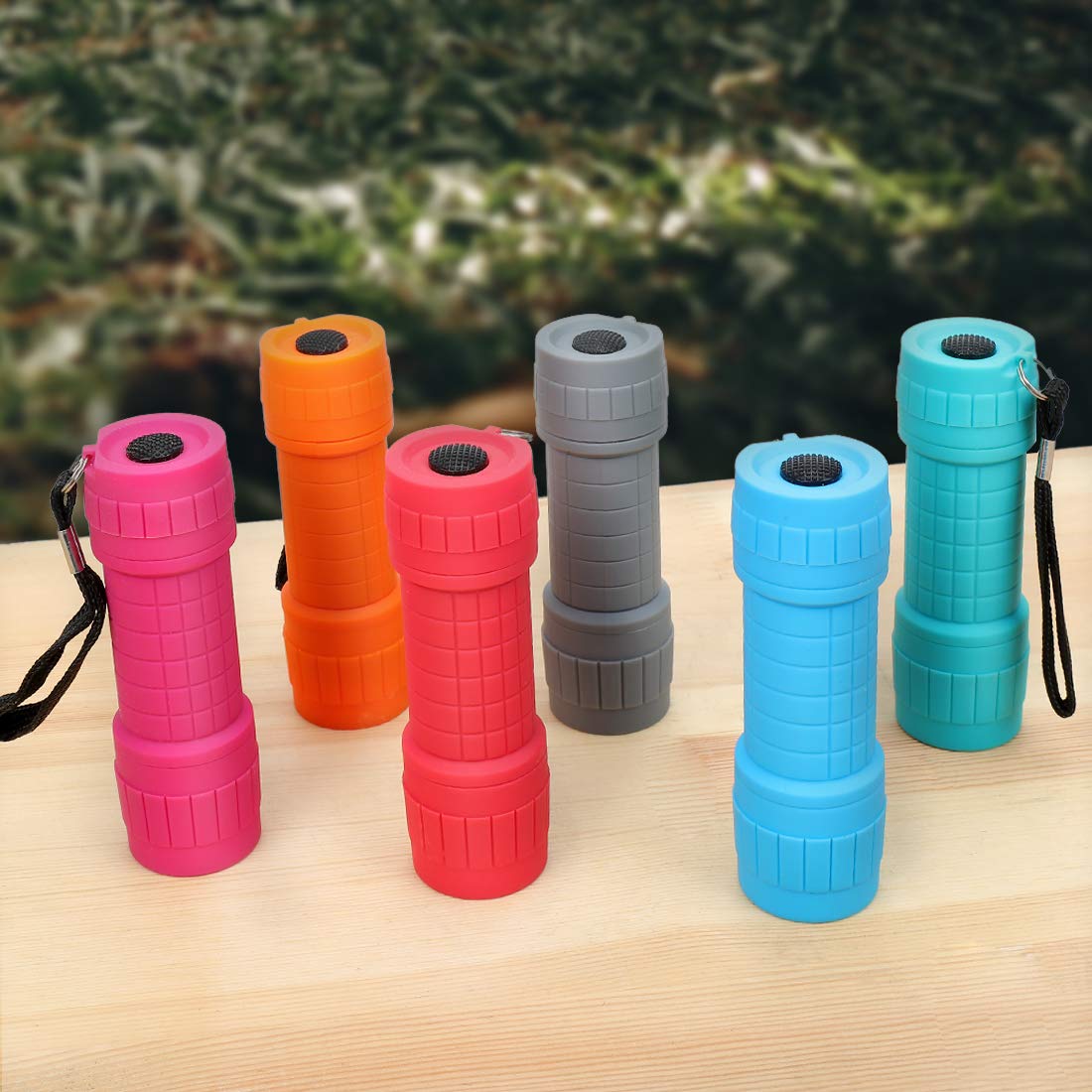 If a high-quality flashlight at a ridiculously low price is what you are looking for, then the EverBrite is the perfect solution.
These colorful lights come in a pack of 6. This is the one time where you won't be all stressed out when your child left their light at their friend's house or lost it at school.
Even though they are incredibly affordable, the EverBrite is also very powerful. With 9 beaming LED lights, it will look like a sunny afternoon once you flip the switch. Not only that, but they are impact-resistant and come with a 1-year replacement warranty. And when it comes to budget-options for a great kids' flashlight – it doesn't get much better than this.
Pros
Very affordable

Colorful and fun for kids

Incredibly bright

Secure plastic case for extra durability
Cons
Requires 3 AAA batteries (which often come included, so yay!!)

Some assembly required




---
Best Flashlight for Toddlers
If you are currently experiencing the ever-fun toddler stage, then you will want to get the best flashlight for them to run around the house with.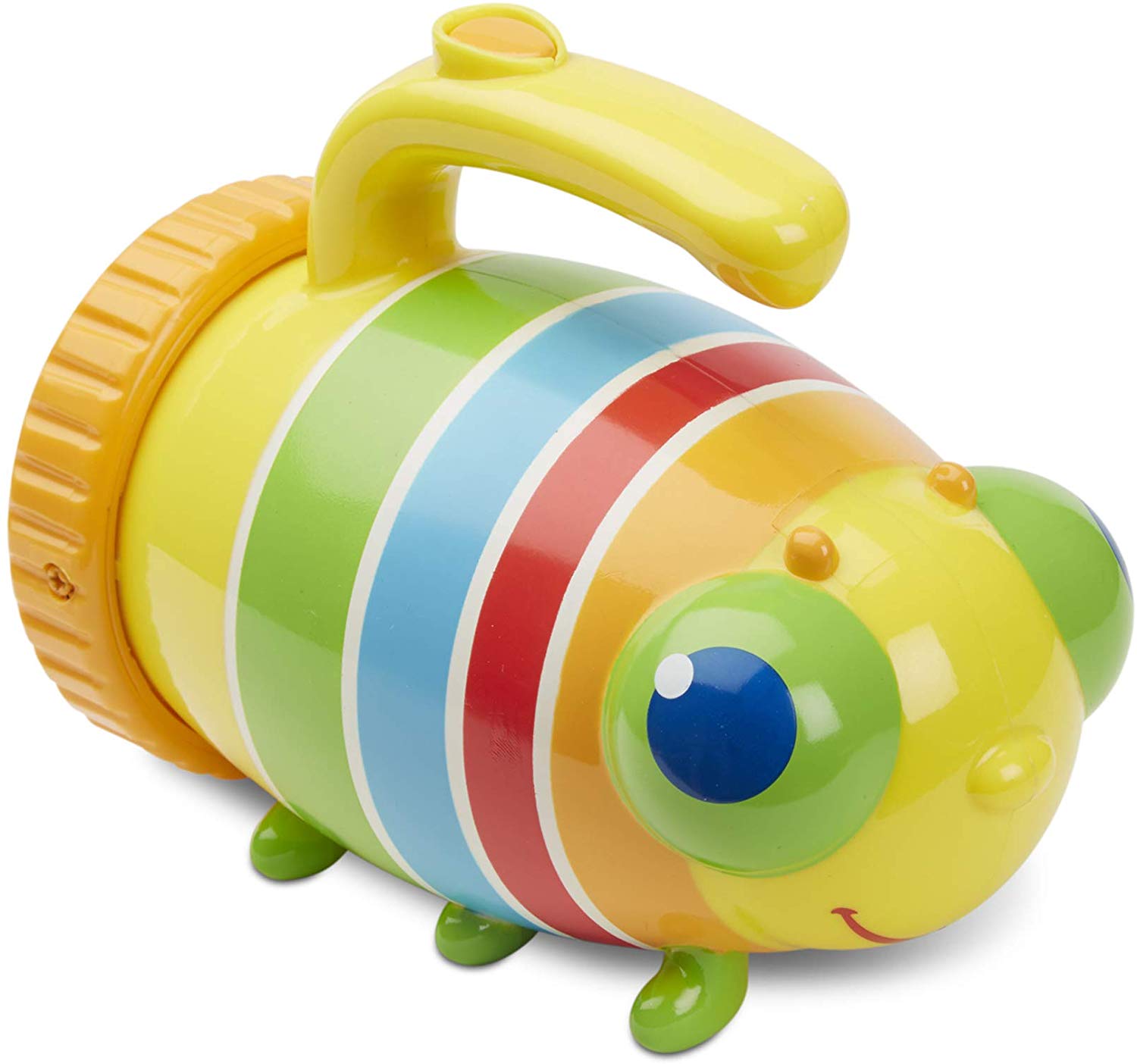 In our opinion, there is no other flashlight for your toddler than this Melissa & Doug flashlight. It is the perfect model for practically any small child.
Not only does it have a really cool name but the colorful look, the easy to grip handle, and of course, the absolutely adorable bug shape, all make this flashlight a favorite amongst all children.
The little feet on this flashlight also make it perfect for setting it down on a table or any flat surface. Which makes it ideal for a good ol' fashioned shadow puppet show.
Pros
Adorable and colorful

Easy to grip and operate

Can be set down on any flat surface

Only requires 2AA batteries
Cons
Batteries are not included

Lights may be a little bright for your toddler

No auto shut-off feature
---
Best Flashlight on a Rope
Having a flashlight on a rope doesn't seem like a big deal, but if you are not a fan of buying flashlights every week, then it is an important feature. The rope can help keep your child from losing their light every 3 minutes.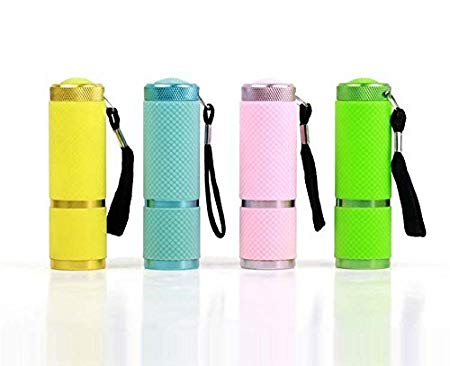 Not only does the Adecco flashlight have a rope, but it also glows in the dark! Good luck losing this flashlight.
This flashlight comes in an assortment of colors so you can choose your kid's favorite. It also comes with 9 LED lights, which means this is one bright light! Your child will certainly have no problems wandering around the campsite with this little light in hand.
Pros
Glows in the dark

Colorful

Comes with a rope

Powerfully bright

Easy to operate
Cons
Requires 3AAA batteries, which are not included

Not as durable as other flashlights on the list
---
Best Kids Headlamp
As a kid, it is important to have your hands free. You know, for climbing, picking up frogs, or just catching yourself when you trip over that branch. This is where having a kid's headlamp really comes in handy.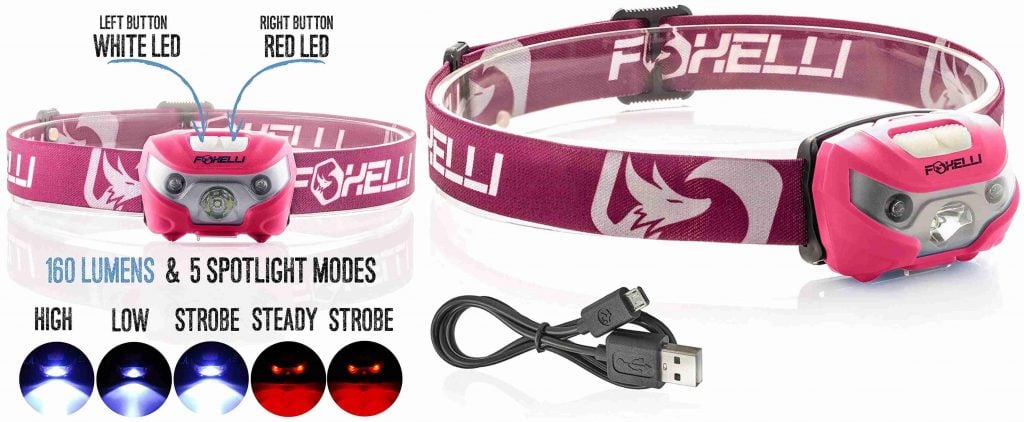 The Foxelli is incredibly light and perfect for kids or adults alike. Seriously, you may be "borrowing" your child's headlamp quite a bit.
It is shockproof, dustproof, water-resistant, and can handle just about anything you throw at it. The USB rechargeable battery is a nice feature as it only takes 4 hours to charge and lasts up to 30 hours. Not too shabby.
Pros
Has 5 spotlight modes in both red and white light

Rechargeable battery

Lightweight

Comfortable to wear
Cons
Only water resistant – not waterproof

The charge doesn't always hold
---
Best Toy Flashlight for Kids
What kid doesn't want a toy and a flashlight all rolled into one? Here is the best toy flashlight you will find on the market.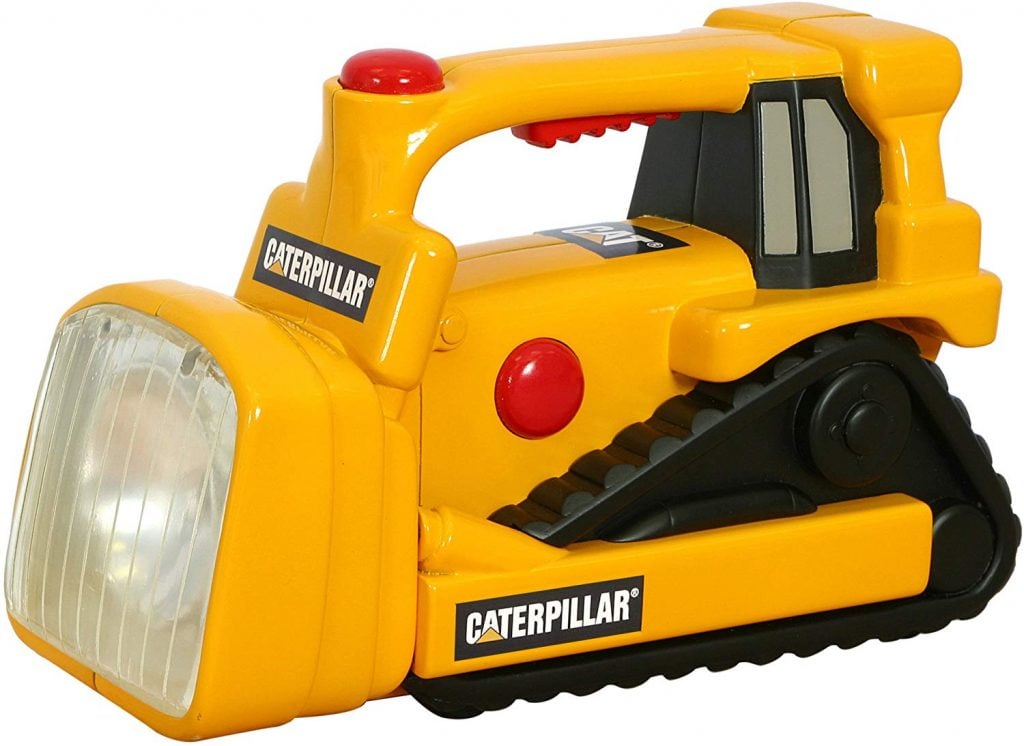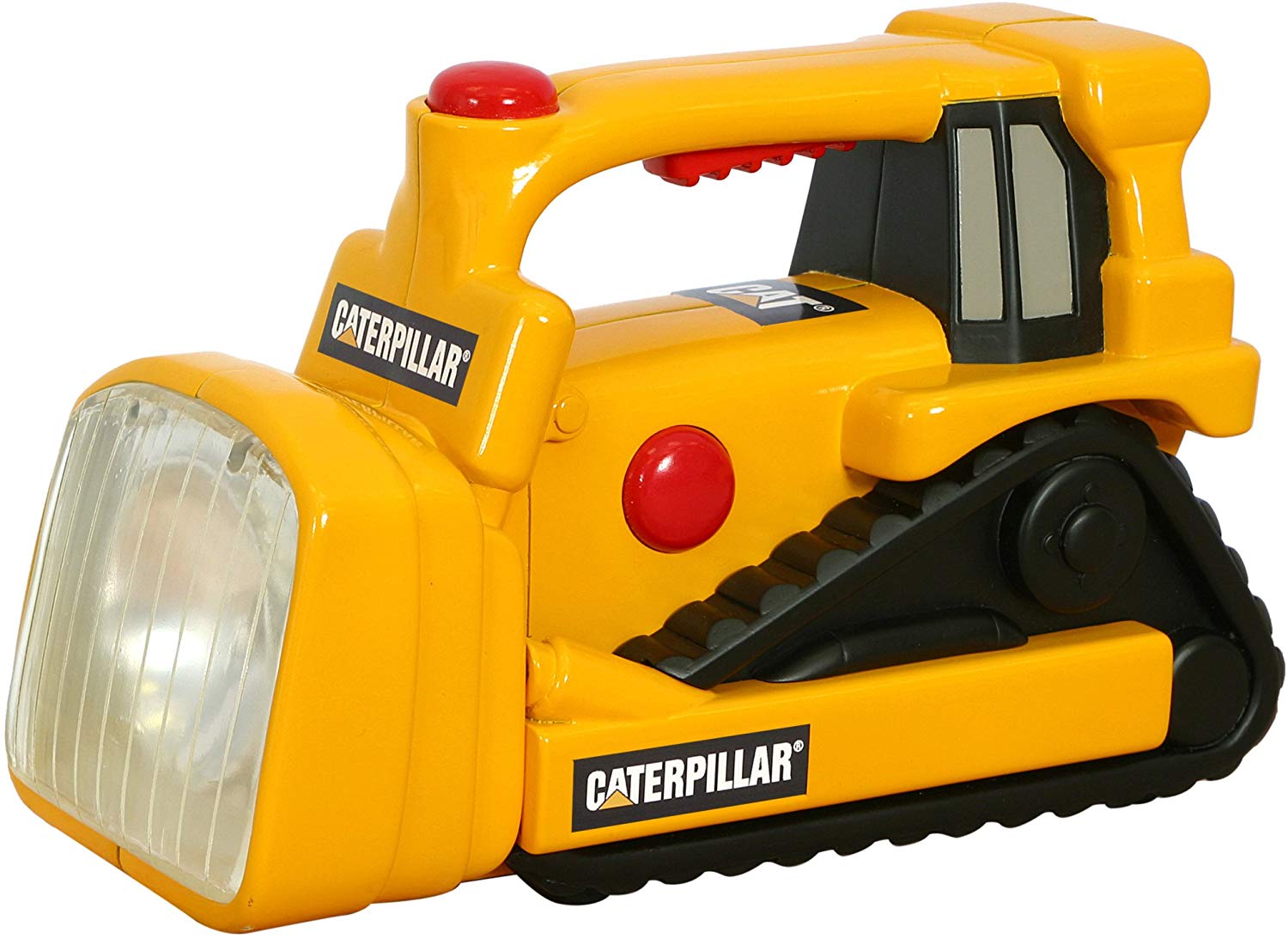 This is one cool toy flashlight that your kid will absolutely love. It's shaped like a bulldozer, so you know it will be the perfect complement to your child's toy box.
VIDEO | CAT Flashlight & Night Light [Tractor Flashlight] TOY REVIEW
Not only does it work as a bulldozer, but the light is actually quite good and easy to use. Even better, it has a nightlight feature, which allows your child to rest easy at night, thinking about tomorrow's big construction job.
Pros
Under-glow night light with 3 timer options

Fun and playful design

Realistic horn and cool bulldozer sound effects

100% non-toxic and safe for smaller children

Has auto-shutoff feature
Cons
Can't turn the sound off without turning the light off as well

On the expensive side for a flashlight
---
Best Outdoor Flashlight for Kids
The sun has set, and it is time for a little stargazing. Grab your flashlight, and let's head outside. Having a good outdoor flashlight is important for those nights around the fire eating s' mores and telling stories, so what is the best outdoor flashlight for kids? Here is our choice: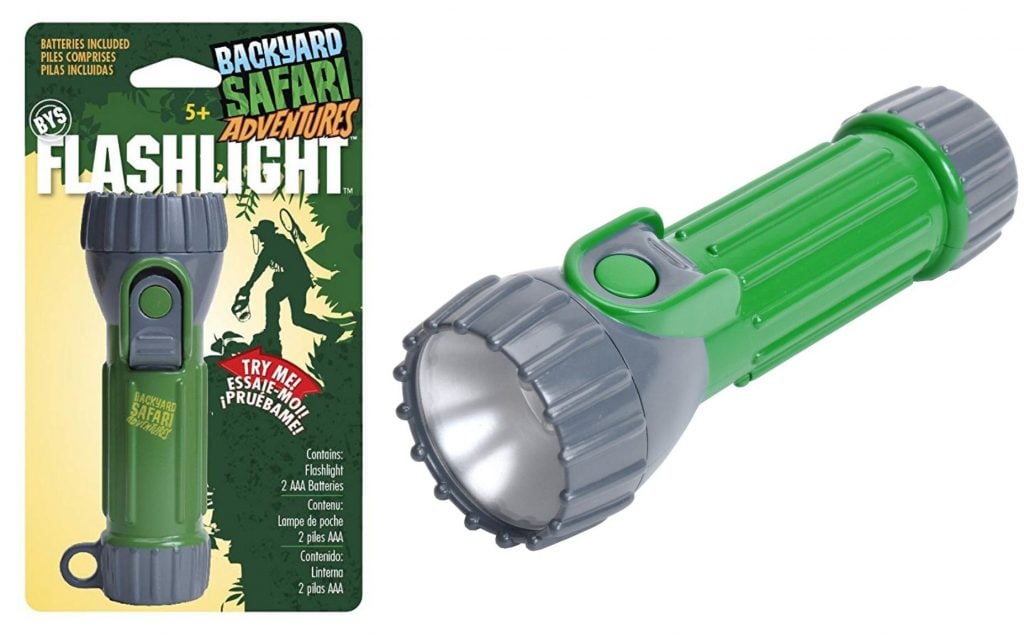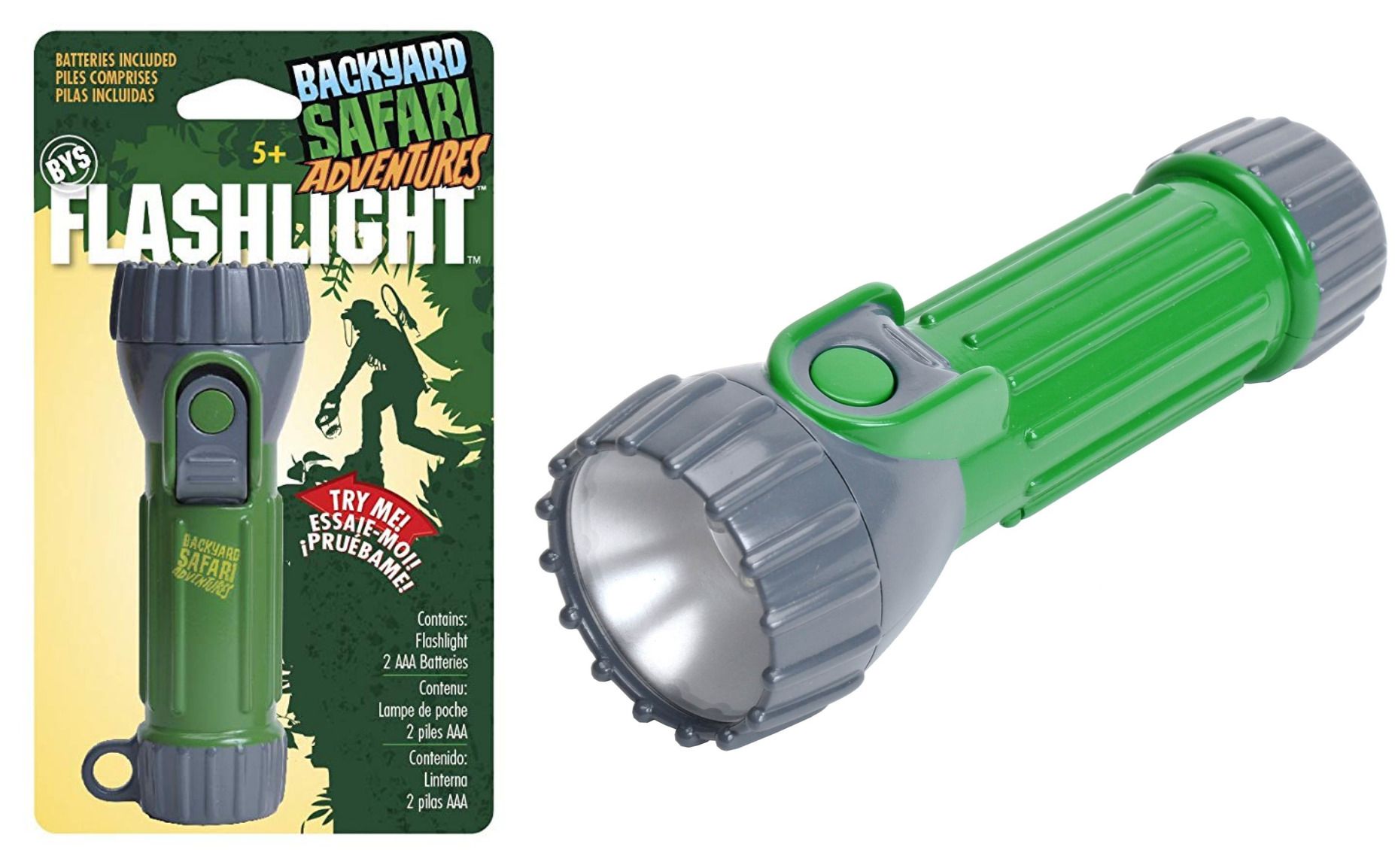 Perfect for any nighttime adventure, the Backyard Safari flashlight comes in a fancy grey and green color and is as durable as they come. Seriously, this is built to last, which is good because children aren't known for being easy with their toys.
VIDEO | Backyard Safari Power Flashlight
This flashlight is also quite light but probably not suitable for children under 5 years of age as the on/off button is quite tough to use, so keep that in mind.
Pros
Rugged and extremely durable

Lightweight

Saves batteries by only working when button is pressed

Bright LED lights

Batteries included
Cons
Can be tough to turn on and off
---
Best Mini Flashlight for Kids
Regular-sized flashlights are cool and all. But mini-flashlights can provide for even more pocket-sized fun. You can easily throw them in your pocket or backpack for everyday carry. They can go anywhere with you, and with carry-space being an issue for kids – let's take a look at the best mini flashlight for kids.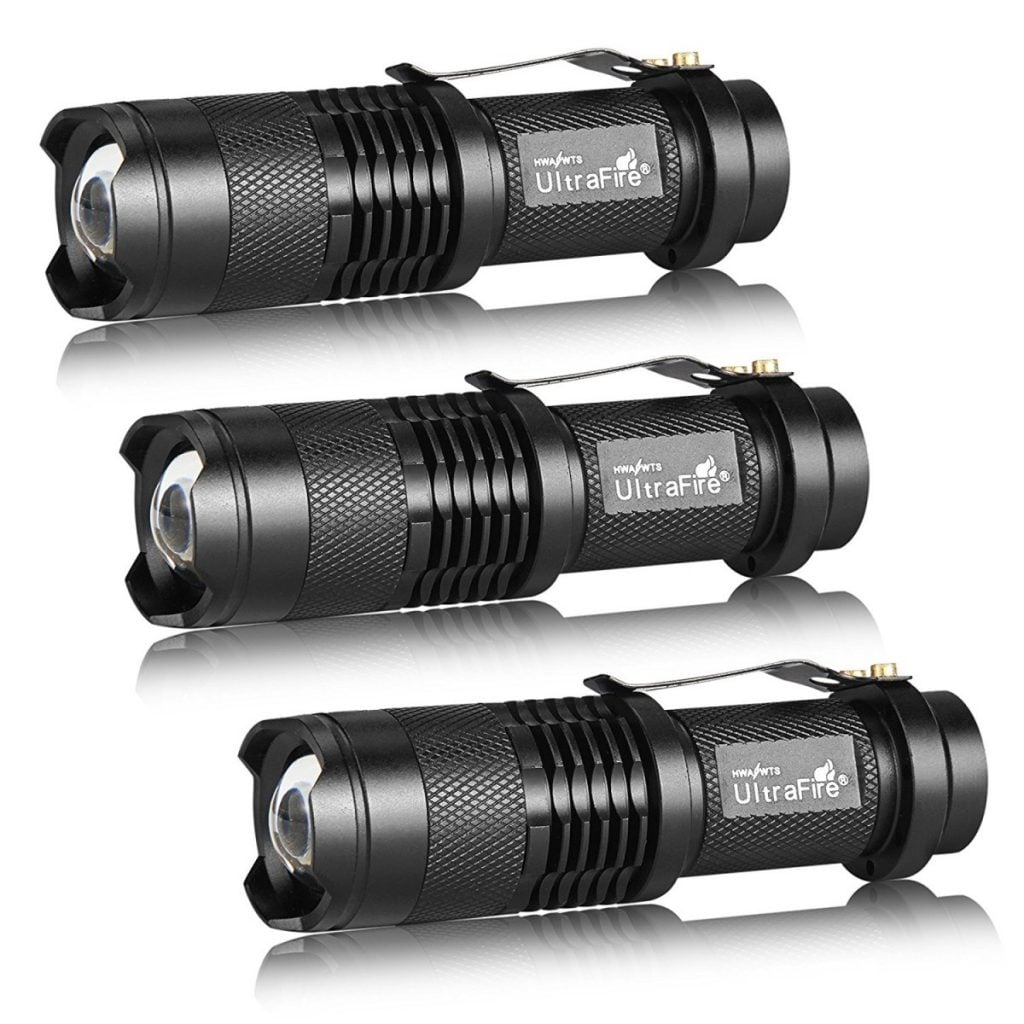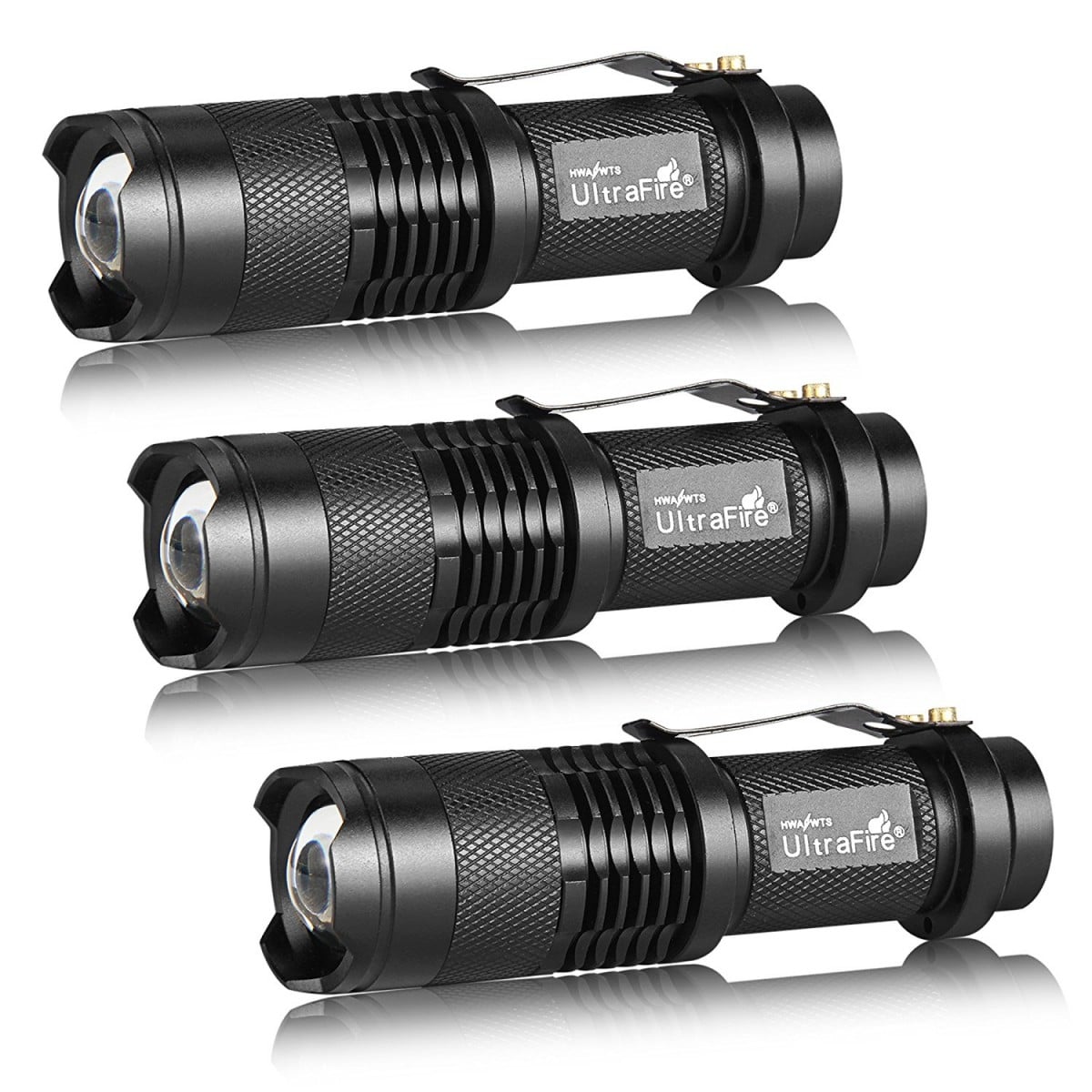 This water-resistant and lightweight mini flashlight is quite durable and comes in a pack of 3, so you never have to worry about losing a light.
For such a small flashlight, it is surprisingly bright. We are talking surface of the sun kind of bright with 300 lumens of light being produced. That is definitely enough to light up any room.
Pros
Incredibly bright

Comes in a pack of 3

Durable and shockproof

Lightweight
Cons
Batteries are not included

Water-resistant but not waterproof
---
What to Look for in a Kids Flashlight
When buying a kid's flashlight, there are three things you need to always consider.
Your Child's Age
Let's face it, a 9-year-old is probably going to be interested in slightly different things than a 3-year-old. It is important to make sure you are getting an age-appropriate flashlight for your child.
If you are looking for a toddler flashlight, then one of the toy lights or the Melissa and Doug flashlight will be your best bet.
On the other hand, if you have an older child, then you will want to get a more rugged flashlight that looks more like a regular adult light.
Your Budget
Naturally, your budget is going to come into play when searching for the best kids' flashlights. Sometimes, it may not be worth dropping $40 on a flashlight that you know your child will lose in about 5 minutes.
With that said, if they are serious about their flashlight and you want to spend a little more of your hard-earned money, then you will need to see what your options are. There are some great mid-range flashlights that are perfect for older children.
Use of the Flashlight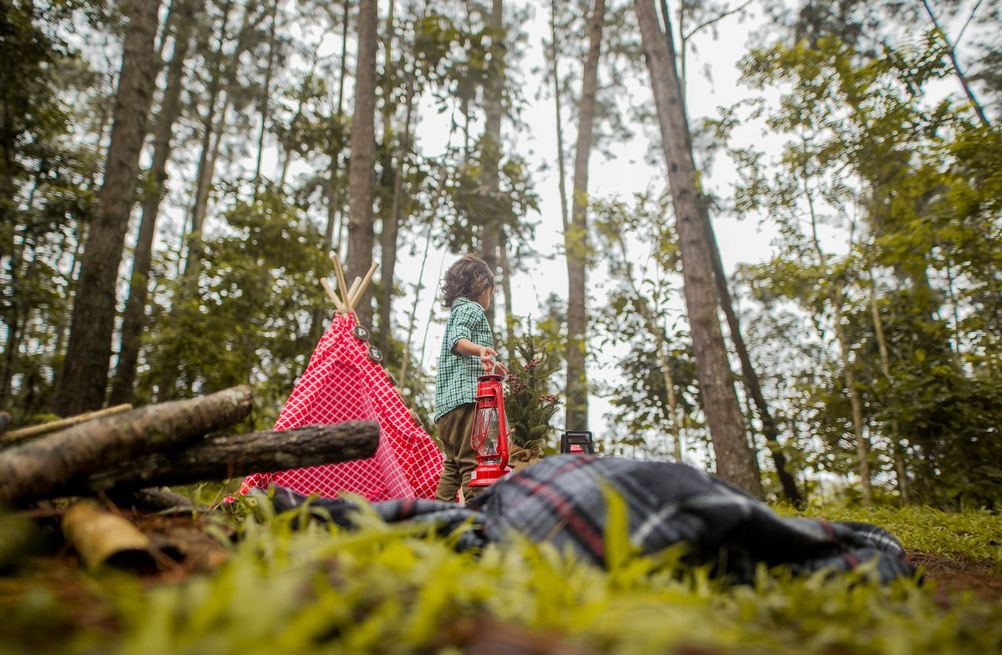 Finally, you need to consider what the flashlight will be used for. If your child is camping, hiking, and outside every night, then you will want to look for a rugged and durable flashlight that is at least water-resistant and super bright.
On the other hand, if your child is just looking to make shadow puppets and play indoors with their flashlights, then maybe you get a glow in the dark light or one that is easy to stand on its own.
Closing Thoughts
Understanding these three things will help you choose the best flashlight for your child. There are definitely plenty of options available on the market, and sometimes picking out the right one can quickly evolve from a shopping trip to an enormous quest.
We hope this quick guide helped to shed some light on a few of the top options for you to consider when it comes to finding the best flashlights for kids in 2023.