What Makes the Best AA Flashlight?
The differences between types of flashlights can be astounding, and to beginners it can be a little daunting.  But hopefully most of you know what a AA battery flashlight is, even in its most simple terms.  It's a flashlight that uses a single AA battery or even six or more AA batteries.  Obviously some of these flashlights can be a lot more complicated and sophisticated than that, but generally speaking that is what they are.
But, what makes the best AA flashlight?  Now many people will consider the tactical flashlights on the tactical flashlight comparison chart page AA battery flashlights, which some of them are, but I like to think of AA flashlights as the flashlights that can be used for just general usage, like taking out the trash as opposed to a tactical flashlight that is used in the more extreme situations.  But, anyway, there are quite a few factors that would make up the best AA flashlight, which include; Price, Power/Lumens, Durability, Reliability.
Below I will be releasing my pick for the best AA led flashlight and why it excels at the above categories!
My pick for my favorite AA flashlight is the Streamlight 88033 Protact Flashlight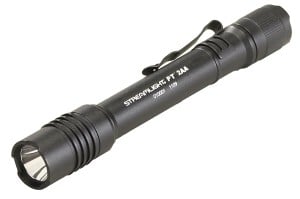 –
Streamlight surely have outdone themselves as this is a great flashlight!  I technically would put this in both the "General category" of flashlights and the "Tactical category" but it is a great flashlight nonetheless!
This Streamlight is quite a quality flashlight.  I believe this can and should be used for any general flashlight usage and can even be used for a entry level tactical flashlight.  Which sports the following specs.
Made of Durable Aluminum
Led Bulb
Weighs 3.2 ounces
Is 9.6 x 4.6 x 2 inches
A high of 155 lumens, a low of 11 lumens!


I would clearly say this is one of the best AA flashlights that you can own.  This is a 2 AA flashlight which I prefer a lot over those cheap "High End" AA flashlights that use 4-8 AA batteries.  My opinion on those are if you are going to use that many batteries might as well just get a rechargeable flashlight or a lithium battery powered flashlight, but to each their own.
This flashlight is made of reinforced aluminum and it is very durable.  I have owned one of these for the past year and I have dropped it many times, and it still works great!  As for the amount of lumens this flashlight produces, it also does very well!  It can produce 155 lumens for a max period of two hours while on the highest setting.  This is a great amount for even most tactical flashlights. One of the best aa pocket torch and the brightest aa flashlight I've ever had.
As for reliability I believe that is held mainly by the company. Streamlight has been around since 1973, and it has been a leader ever since!  So if you ask me, I believe that it also passes the reliability test!  I hope my guide, and selection of the best aa flashlight is acceptable for you guys!