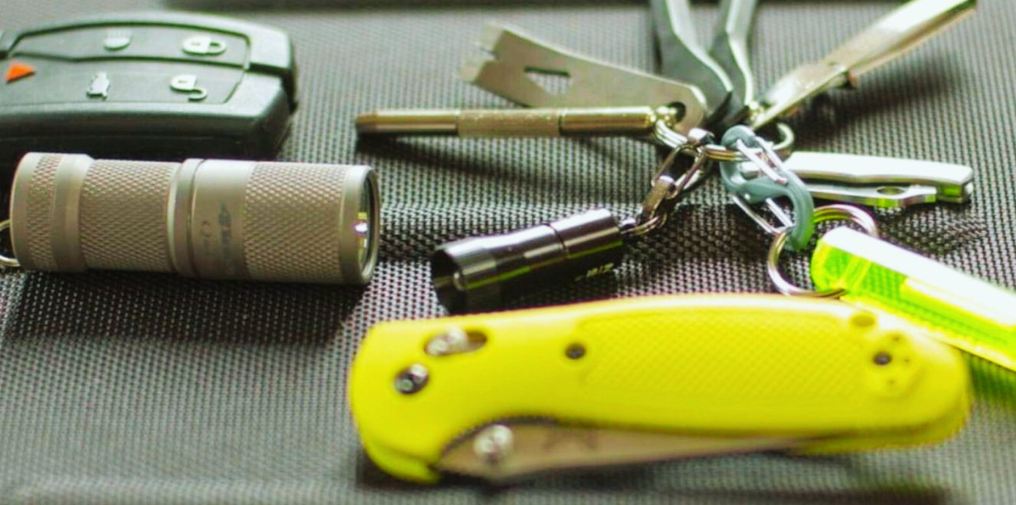 Our Top Choices
If you're not sure of where to start looking, check out this handy guide to the best edc flashlights, featuring products that have a maximum lumen output of anywhere between 80 and 1800. There's a flashlight for every occasion and need!
EDC , or "everyday carry," flashlights are incredibly useful tools that every adult should have. If you don't have one or if you haven't replaced yours in several years, now is the time. The technology has improved to an almost unbelievable amount in the span of only a couple of years.
A Quick Comparison of the Best EDC Flashlights
Included in the chart are the following labels:
Title/Brand of the EDC Flashlight & A Picture
Lumens – The maximum amount of lumens the flashlight can produce at its highest setting
Weight – The weight of the light with batteries
Length – The length of the light in Inches
Bulb Type
Battery Type
1000+ Lumen

Everyday Carry Flashlights

There's "bright" flashlights, then there's "Oh my god, my eyeballs!" bright flashlights. These 1000+ lumen flashlights are part of the latter category. They pack enough power to allow you to see into the darkest depths and temporarily blind and stun possible threats.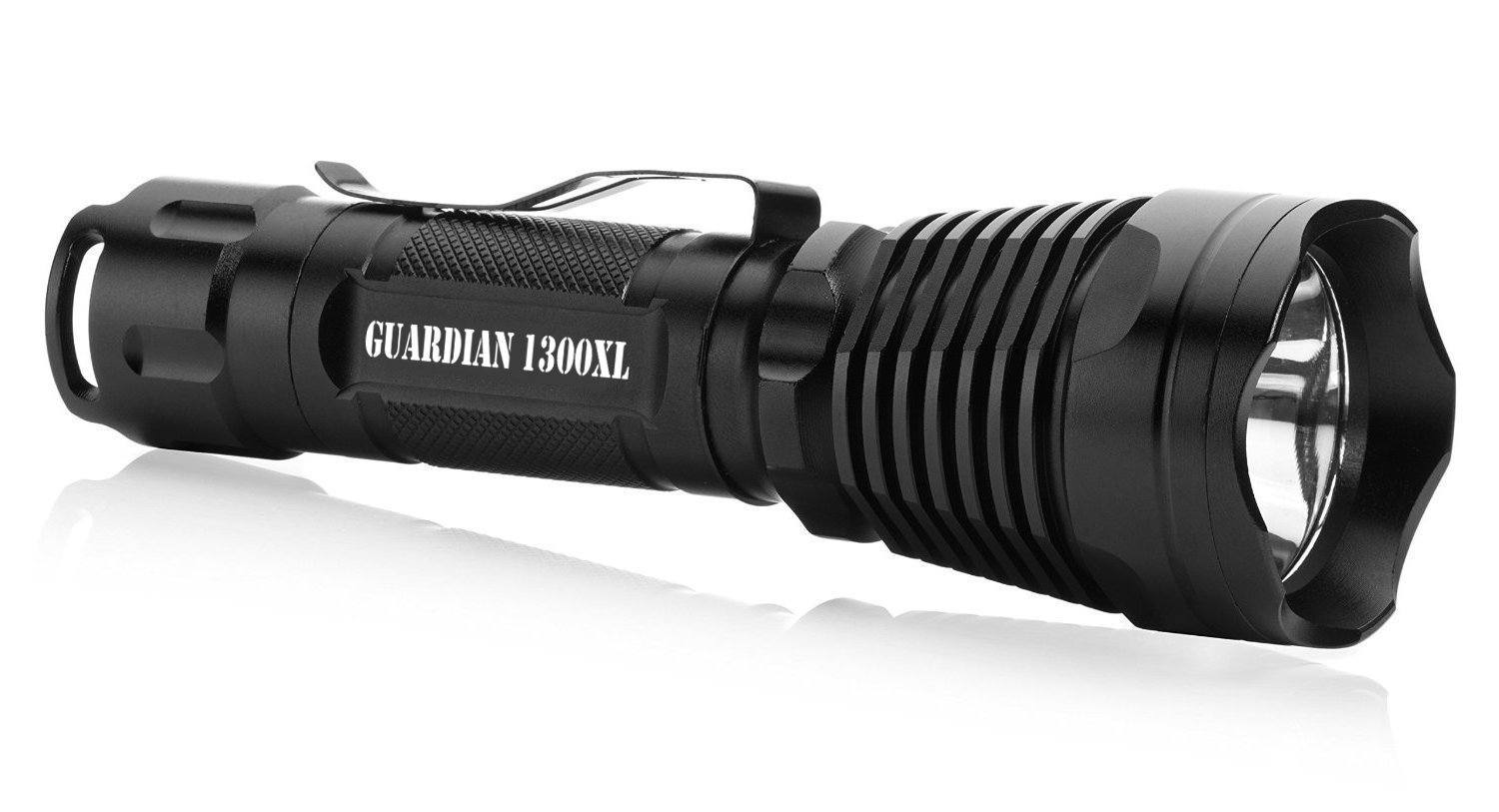 The Guardian is possibly one of the most affordable 1000+ lumen flashlight and the best edc rechargeable flashlight currently on the market. The Guardian is also battery-efficient, using either two 18650 lithium batteries or 3 AAAs. Both of which are included in the package (as well as a charger for the lithium batteries).
VIDEO | Supernova Guardian 1300XL: Light Test
It's weather-resistant, made with aviation-grade aluminum, and has five output settings: high, medium, low, strobe, and SOS. Built to last and ultra-bright, this 1300 lumen flashlight will make caves, attics, and other dark places totally visible. It's like a handheld sunny day.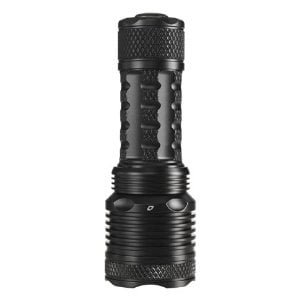 Under 5 inches long, this FourSevens flashlight is capable of putting out 1600 lumens! It can maintain that output for up to 2.5 hours before the battery needs to be recharged.
VIDEO | Foursevens MMU-X3 LED Light
An impressive feat! When you realize that flashlight with half of that lumen capacity sometimes only lasts an hour or so.
This is a no-frills model, with only two different settings (200 lumens and 1600 lumens). No battery or charger included. Despite that, this is still a handy little light for people who want ultra-brightness.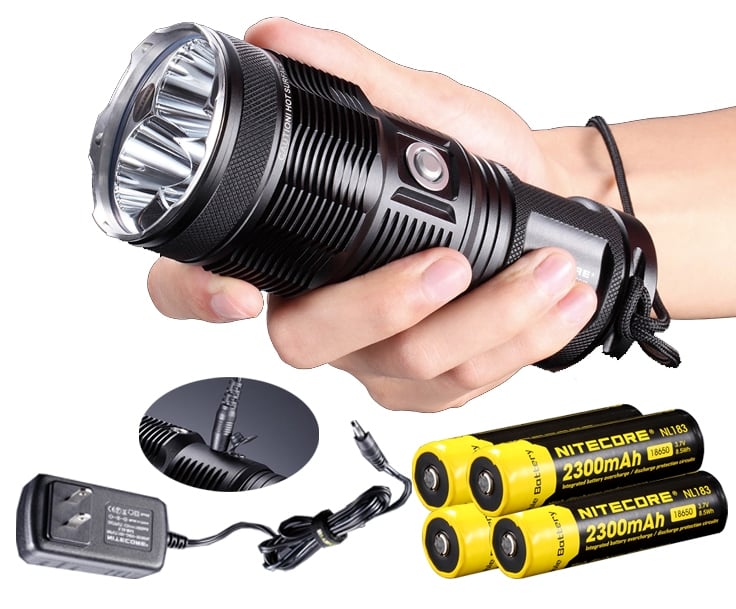 Perhaps the most aptly named product on this list, Nitecore's Tiny Monster Flashlight is incredibly small and lightweight, but boasts a blinding 2000 lumen maximum output. Simply the best Nitecore edc flashlight. It can use either 18650 lithium ion rechargeable batteries or CR123A batteries. The Tiny Monster is built to last. As it is constructed from hard-anodized aluminum alloy, uses a mineral-coated scratch-resistant lens, and is water-resistant.
VIDEO | Nitecore TM15 Tiny Monster: Light Test
There are five brightness settings: turbo (2450 lumens, one hour), high (1300 lumens, 3 hours and 10 minutes), mid (570 lumens, 8 hours and 20 minutes), low (300 lumens, 16 hours and 30 minutes), and lower (95 lumens, 52 hours). With a maximum throw of 1.190 feet (363 meters). The Nitecore Tiny Monster ensures that you will never be in the dark.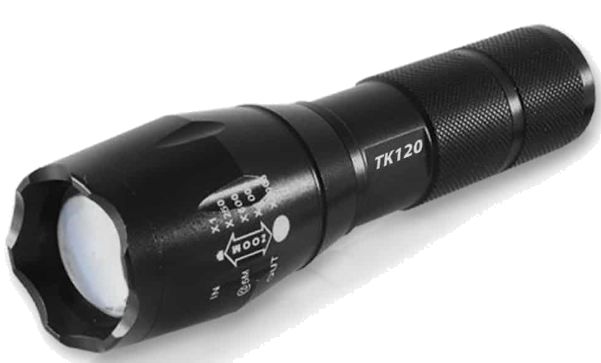 For light-seekers on a budget, there's the TK120 Flashlight, which has a maximum output of 1200 lumens, 5 different light modes, a zoom function, and doubles as mounted weapon light. It is water-resistant, shock-resistant, anti-abrasive, and made from aluminum alloy, making it perfect for both outdoor and home use.
VIDEO | TK120 LED Flashlight Kit
Furthermore for power, the TK120 can use either a 18650 rechargeable lithium battery (which is included, along with the charger) or 3 AAA batteries. Affordable, bright, and durable—this flashlight is a great buy for those who need an all-around high-quality, versatile, and portable flashlight.
500 to 960 Lumen

Everyday Carry Flashlights

For most people in need of an EDC flashlight, a product with a maximum lumen output of 500 to 960 will give them enough and probably more light power than they will ever need. However, since most, if not all, products mentioned here have adjustable settings, it's easy to use the strength you want while still having the ultra-bright power if you need it.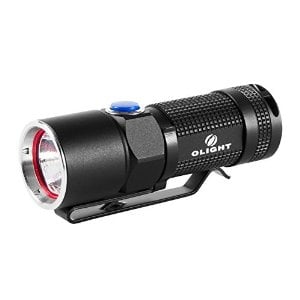 Weighing only 1.48oz, measuring under 3 inches in length, and made with aviation-grade aluminum, the Olight is a tiny and affordable flashlight that packs a punch with a maximum output of 400 lumens. Not only is it bright, but it comes with a variety of different setting options, including four brightness levels, a powerful, yet removable magnet end that helps it stick to metal surfaces, and a strobe mode.
VIDEO | Olight S10: Light Test
The only disadvantage is that this flashlight takes CR123A lithium batteries, which can be a little more expensive than regular AAs or AAAs.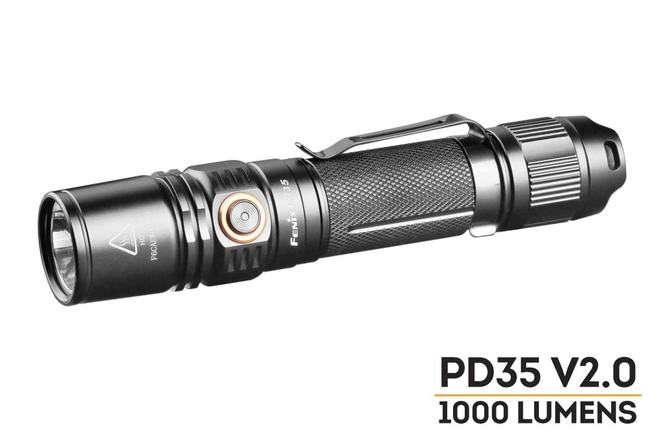 The Fenix PD35 is flashlight powerhouse, with a maximum output of 1000 lumens. It's hard to believe that so much power can be stored in a flashlight that is only a little over 5 inches long and weighs less than a pound. Its design features an anti-roll and anti-slip body with a Cree XP-L(V5) LED light source that will last its owner at least 50,000 hours.
VIDEO | Fenix PD35 V2.0 2018: Comparison
The Fenix PD35 can use one of two types of batteries: an 18650 rechargeable lithium ion battery or two CR123A lithium batteries. (This particular package includes the rechargeable battery.) With a beam this bright and long, the Fenix PD35 is a great choice for a lightweight and well-made EDC flashlight.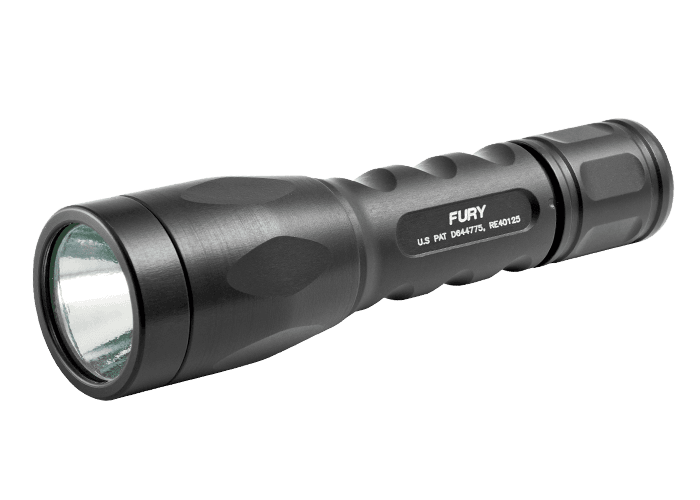 Made with aviation-grade aluminum and anodized to military specifications, this little pocket flashlight will not only put out up to 500 lumens, but resist scratches, corrosion, and abrasion as well. This is the flashlight for the individual who doesn't need an extreme amount of lumen output, but who does need a hardy, reliable, weather-proof, and shock-resistant flashlight that will fit in a pocket and not weight them down. The P2X uses two 123A batteries (which are included) and has two output options, 500 lumens and 15 lumens.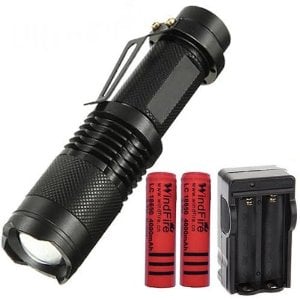 This WindFire flashlight packs a serious punch with its 1800 lumen maximum output capacity. It has a  waterproof aluminum body. And five different light settings, including strobe and SOS. This is the perfect flashlight for use during late-night dog walks and garbage can retrievals. Along with camping, and most other occasions where a super-bright light is needed. This WindFire model is also available in a bronze finish, rather than black.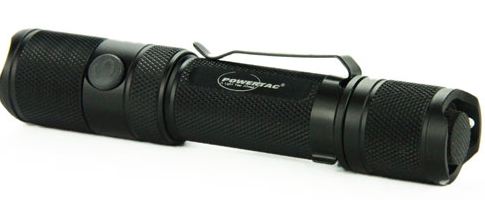 This exceptional little PowerTac E5 flashlight works in two capacities: as a handheld, EDC light and as a weapon light. Capable of outputting up to 950 lumens, this rugged flashlight was designed for use in rough and demanding situations, as it is shock-resistant, made from aluminum, weather-resistant, and built for quality.
It measures just five inches in length, weighs 2.3oz., and uses 2 rechargeable batteries. Additionally, the E5 has 4 brightness settings, plus a distracting strobe mode, and a beam length of up to 240m. The perfect light for the outdoorsy individual, hunter, or anyone who likes to be able to see where they are going in the dark.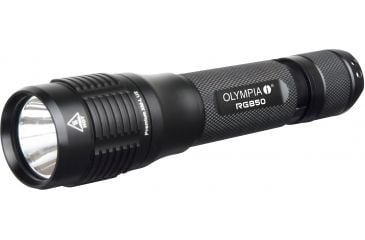 Avid campers, spelunkers, and all-around adventurers should definitely think about adding this light to their gear. With 850 lumen output, waterproof up to 2 meters, weighing 4.2oz, and measuring just under 6 inches, the Olympia RG850 is versatile, functional, and extremely portable.
Additionally, it includes 5 different settings—not just the typical high, medium, and low brightness options. But also a strobe and SOS option. With a light this bright, your SOS is sure to catch the eyes of search parties, should anything unfortunate befall you on one of your outings. This flashlight uses a rechargeable battery and can be charged either on the wall or by USB connection.
100 to 400 Lumen

Everyday Carry Flashlights

Though these models are not as bright as the other products previously mentioned. They are bright enough for the average individual's daily use. Unless you are Indiana Jones or a professional cave-explorer, you probably won't need to have a flashlight with a maximum lumen output of over 1000. That's not to say that one should not purchase one so powerful, as they do come in handy, but most people will likely have very little need to have access to that kind of brightness.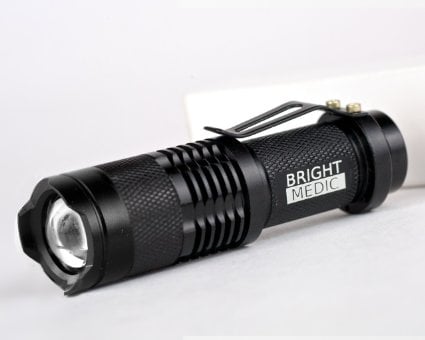 Measuring 3.6 inches and weighing on 2oz, this 200 lumen flashlight is weather-resistant. With zoom capabilities and a tough aluminum body able to withstand general use and abuse. The Mini Bonfire uses AA batteries and with a throw of over 80 yards. This light is perfect for residential and even light commercial use.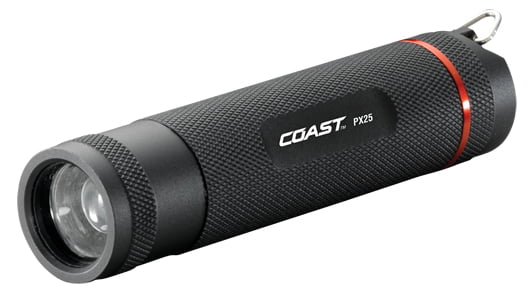 Measuring under 5 inches in length and weighing 4.2oz., Coast's PX25 is ultra-portable—great for purses, pockets, dashboards, and consoles. With a maximum output of 208 lumens, a beam distance of 128 meters, an aluminum body, and an overall design that is water-resistant and impact-resistant, the PX25 is both bright and durable, and, because of the price, extremely affordable flashlight. Plus, it comes with Coast's lifetime guarantee against defects in workmanship and materials.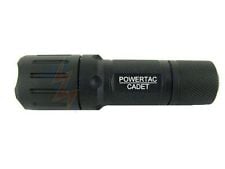 Looking at it, you wouldn't guess that this 2oz, 3.5 inches long. PowerTac flashlight is capable of outputting 300 lumens on a single CR123A battery, It has multiple light settings, including a strobe mode, and a beam distance of at least 200 meters. Portable, affordable, bright, and well-made—what more could you want in an EDC flashlight?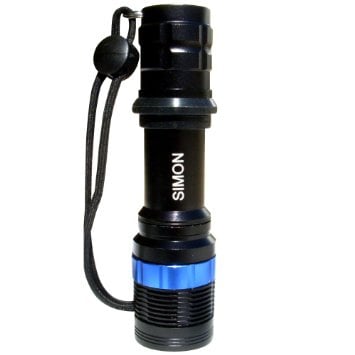 The Simon Mini flashlight weighs 8oz. and measures 5.4 inches in length; and with a maximum output of 200 lumens, it is both portable and bright—a perfect tool for use around the house. While its high quality and rugged design make it an ideal camping or EDC flashlight.
There are 16 adjustable settings available to allow the user to focus the light exactly as they please. Including 3 light modes—high, low, and strobe. The Simon Mini takes three AAA batteries, either rechargeable or disposable.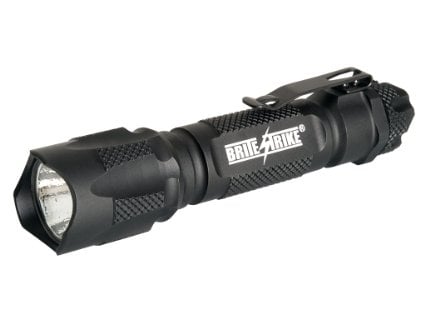 This Brite Strike flashlight is durable and bright, offering consumers a maximum output of 340 lumens. Aviation-grade aluminum body that is also waterproof. With several different light settings, including a strobe mode. This flashlight is small enough to fit in a pocket and light enough to not burden the owner. Its main (or other) application is as a pistol light. But it functions just as well as an EDC light due to its high quality construction and bright output.



Incredibly Powerful Keychain Flashlights
Of course, most people only think of keychain flashlights as useful when they need to find their keys in the dark, but if you buy the right model, a keychain flashlight can easily double as an EDC flashlight that is portable and highly functional.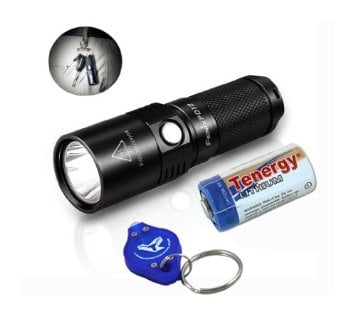 This 360 lumen keychain flashlight uses one CR123A battery and has three different brightness modes, plus in addition a burst mode. Weighing only 4oz. and measuring only 4 inches in length. This little light fits perfectly on a keychain and in a pocket or purse. But bursts out with extreme brightness when needed at a maximum distance of 131 yards.
---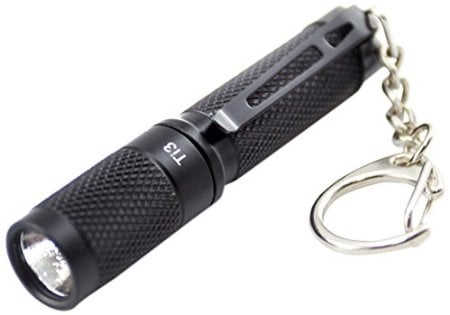 This tiny and affordable ThruNite flashlight has a maximum output of 120 lumens and runs on one AAA battery. There are four different light modes available for selection: strobe, low, medium, and high. Made of out aviation-quality aluminum, measuring only 72mm, and weighing under 2oz, this is a keychain light made to be portable, tough, and, of course, quite bright.
---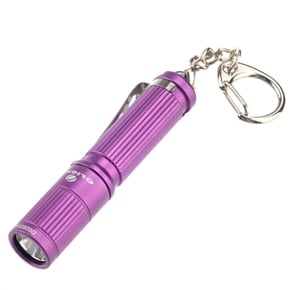 This Olight flashlight has a maximum output of 80 lumens, is 2.8 inches long, and weighs under 5oz. It has a compact and durable design. With a body made out of scratch-resistant aluminum, and four different output levels from which to choose. Moonlight, low, high, and strobe. Plus, it comes in other colors, such as gold, black, blue, and red. These handy little EDC flashlights make great stocking stuffers or office gifts.
Your Guide to Finding the Best EDC Flashlights
Not everyone needs a tactical flashlight that can beam over 2000 lumen (Such as the Nitecore TM15). EDC (every day carry) flashlights are able to provide lighting that is ideal for a myriad of situations. These are the flashlights you'll see in a bug out bag or in survival kits. The main purpose of these models is not every day use, but rather reliable and practical moderate usage.
What should you look for when choosing EDC flashlights?
Lumens
Lumens indicate how much light will be produced by the bulb of your flashlight. A general rule of thumb for lumens is:
20 or less: Ideal for reading maps or illuminating keyholes.
20 – 35: The ideal choice for maneuvering around a dark home.
35 – 100: Ideal for camping and general outdoor use.
100+: Ideal for police and security guards.

When you get into the 800+ range, these models are very powerful. Meant for the darkest of earth's areas, such as caves, or for military purposes.
The amount of lumens you need will depend on your usage. Ideally, you'll have a model with at least 100 lumen for general everyday usage.
Bulb Type
You'll come across two bulb types available on flashlights: LED and incandescent. Which one should you choose? To keep it short and sweet, you'll want to go with the newer LED models. LED lights are:
More efficient
Have a lifespan of 10,000 – 100,000 hours (depending on type)
Smaller in size
Durable
There's nothing wrong with incandescent models. They will work fine. But they aren't as durable, and they will need to be replaced more often. It will take you decades of daily usage before you need to replace an LED light bulb. Which makes them perfect for every day carry and survival situations.
Battery Type
The final choice that you'll need to consider is the actual battery type of EDC flashlights. You'll come across AA or AAA batteries that are alkaline, or Li-ion or CR123 batteries. Most people prefer AA and AAA batteries because they can be found in the majority of our everyday technologies. (Such as TV remotes).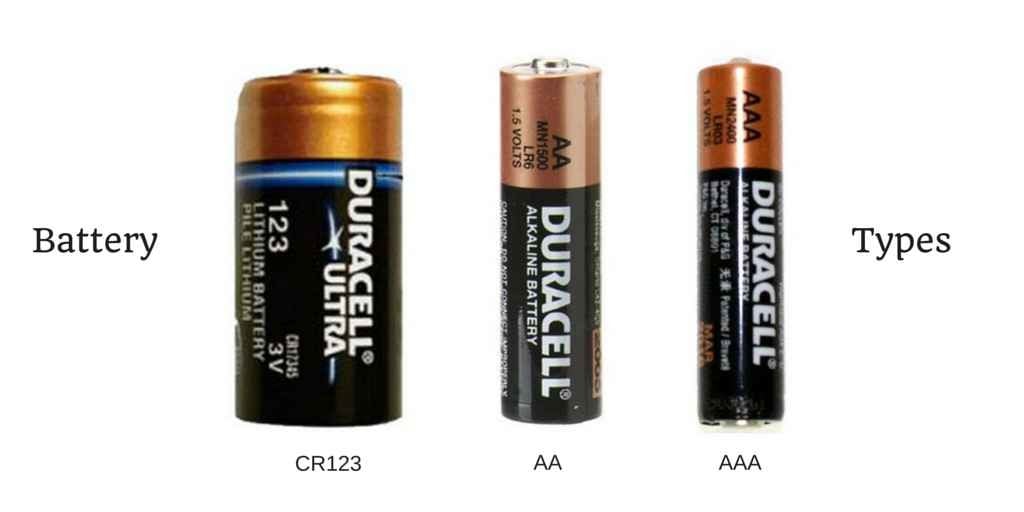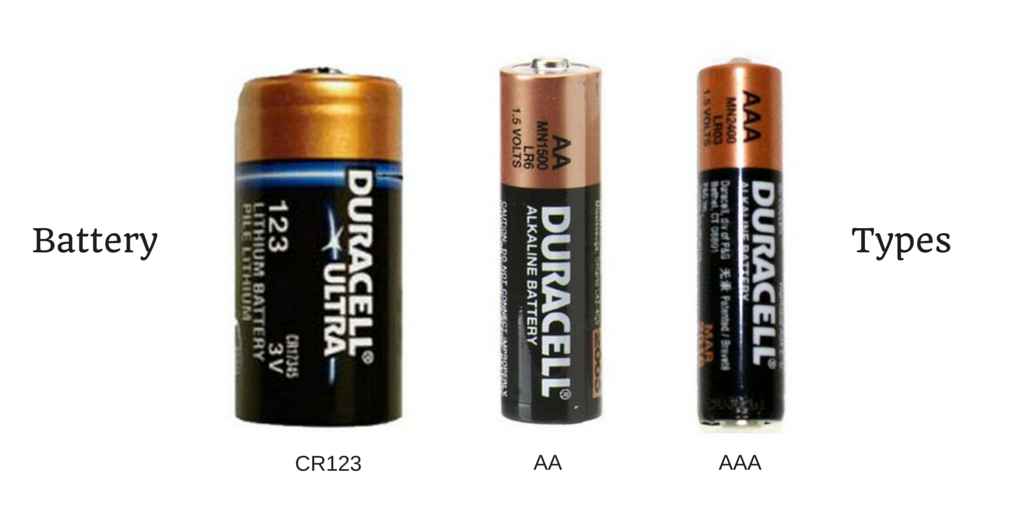 CR123 batteries are lighter in weight and provide adequate energy storage by using Lithium cell technologies.
Which battery should you choose?
A CR123 battery is lighter and a better manager of energy consumption. With that said, these batteries are also more expensive and not as readily available as AAA or AA batteries. In truth, both battery types will work well, with the CR123 being preferred.
I hope you liked my review on the best edc flashlights. I hope it has helped you in choosing the best tactical flashlight for your "everyday carry".