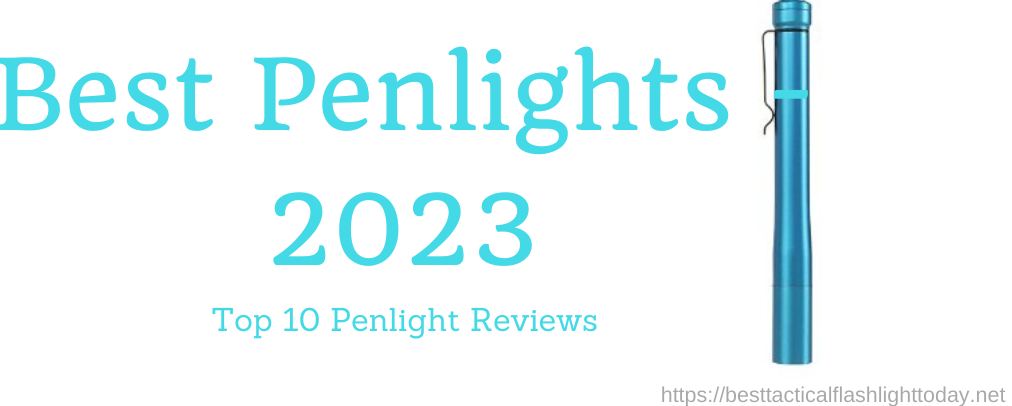 Our Top Choices
Penlights are incredibly handy and can serve a variety of purposes in the home, vehicle, and workplace. Unlike most flashlights, penlights produce a smaller beam of focused light that is ideal for searching in small spaces or reading in the dark. Penlights are ideal stocking stuffers and make fabulous gifts for anyone on any occasion (penlight for nurses). Keep reading to discover the best penlight buys for your money.
Comparison of the 10 Best Penlights Of 2023
* Could Not Find The Exact Weight For This Model.
Included in the chart are the following labels:
Title/Brand of the Penlight & A Picture
Lumens – The maximum amount of lumens the flashlight can produce at its highest setting
Weight – The weight of the light with batteries
Length – The length of the light in Inches
Top 10 Penlight Reviews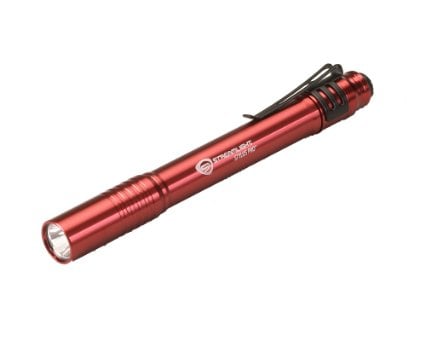 This Streamlight is the best aaa penlight: affordable, lightweight, compact, and extremely bright. (And it comes in blue as well). It has an output of 48 lumens and is made for one-handed operation, making it ideal for searching in gloveboxes or small dark spaces.
Additionally, the body is made from solid, aircraft-grade aluminum and is resistant to corrosion and water and the lens is made of scratch-resistant and unbreakable polycarbonate. It is sold with a tear-resistant holster and sturdy pocket clip for convenient carrying. The Streamlight also boasts superb battery life, lasting 6.25 hours on 2 AAA batteries. Also, this is an LED pen light, which has a lifespan of 30,000 hours.
---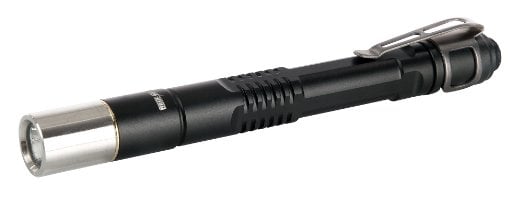 Although it is one of the more expensive penlights, with the larger price comes much greater power. This Brite Strike penlight has a maximum output of 160 lumens, making it comparable in brightness to many flashlights without their weight and bulk. It is small and lightweight, made to easily fit into a purse, pocket, console, or glovebox.
It also has several different brightness settings—high (160 lumens), low (80 lumens), and strobe (160 lumens). The EPLI is durable and sturdily constructed, using high-grade aluminum and a graphite anodized finish for the body and a Cree LED for the light source, as well as incorporating digital power management to deliver the best performance.
Not only is the EPLI handy for everyday visibility needs, but the strobe function is bright enough to temporarily blind and stun any threats one may happen to encounter, giving it possible self-defense abilities.
---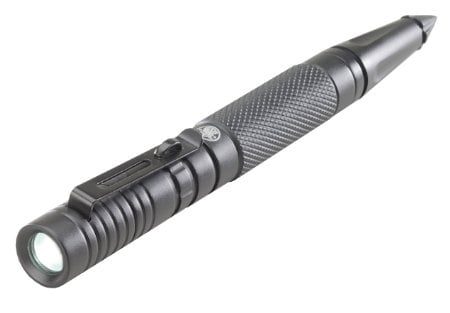 If you have a totally rational and completely understandable fear of both the dark and being trapped behind glass, this is the penlight for you. Of course, it is a good choice for others too, as it is affordable and bright. However, this is not what one would classify as an everyday carry light, but rather one to be used in emergency situations, including last-ditch self-defense efforts.
The maximum output is 30 to 40 lumens and also includes a functional glass breaker tip that can be used not only to break glass, but as an effective weapon—jamming the tip into an attacker's eye or knuckles will cause a tremendous amount of pain. It gets hot after extended operation, so it is inadvisable to use this tool as part of law enforcement or security patrols. However, for the price, this is still a good buy.
---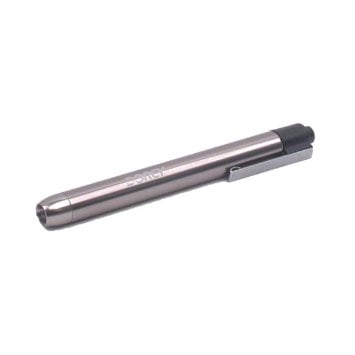 For those on a budget, there is this extremely affordable Dorcy penlight, It uses 3 AAA batteries, weighs .8oz, and is made of aluminum. The maximum output is 15 lumens, so it is not as bright as most other penlights.
Though it is dimmer than others on this list, it is sturdily designed and well-made. This is a great light for those who only occasionally need a penlight (and not an exceedingly bright one); it is not meant for tactical use.
---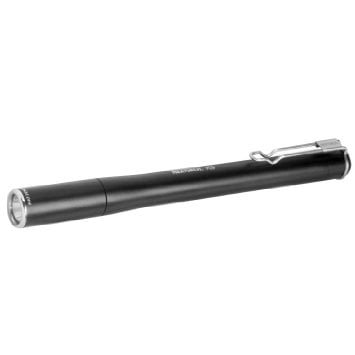 The Nextorch K3 is, without a doubt, one of the best penlights available, The Nextorch K3 offers a maximum output of 180 lumens, a 56.6m beam distance, four different modes of operation, and a maximum battery life of 38 hours.
The four different modes are high (180 lumens), medium (75 lumens), low (25 lumens), and strobe (180 lumens, 9Hz). The body is made of aerospace-grade aluminum with an anodized finish and the unit is water-resistant. The Nextorch K3 runs on 2 AAA batteries and is lightweight and compact enough so that it can be worn on a front pocket without the user feeling any kind of excessive weight.
This is a great light for patrol duty and other professional applications as well as a fantastic everyday carry light. It is well worth the money and should definitely be considered by anyone interested in purchasing a quality penlight for a reasonable price.
---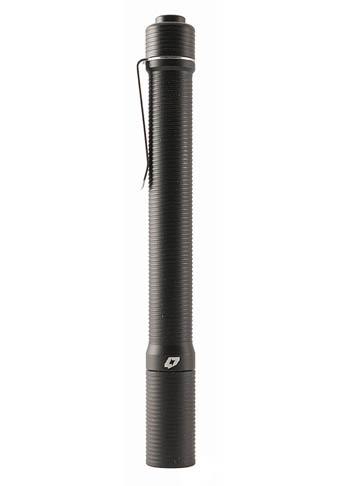 The FOURSEVENS Preon 2 is the light to have in an emergency. Why? Because of what it offers: durability (it is made of aircraft-grade aluminum), a CREE XP-G LED, and a battery life of 23 hours on two AAA batteries. Additionally, the Preon 2 has seven different operational modes: high (220) , medium (90 lumens), low (10 lumens), strobe, SOS, beacon high, and beacon low.
It also comes in a 2 colors, blue and black. P2 is slim and lightweight enough to function as an everyday carry light as well as a tactical light. It is especially handy for campers and others who enjoy outside nighttime activities, due to the specialty modes that it includes.
---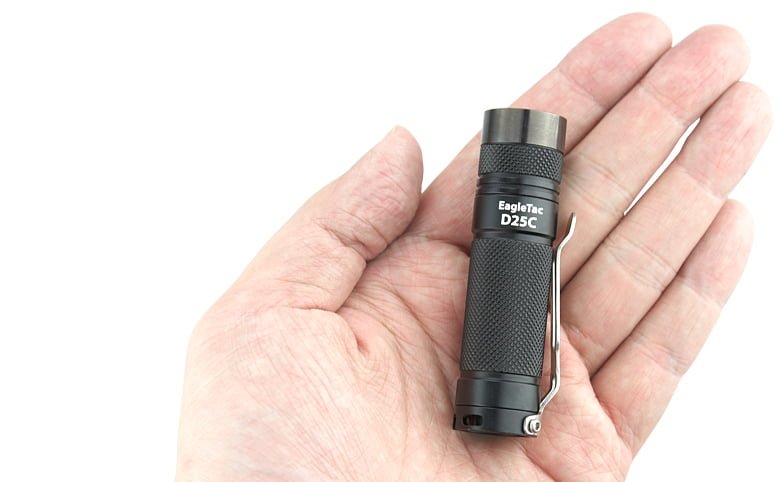 The EagleTac D25C is not just bright. It is retina-searing, blinding, "oh-my-god-my-eyes!" bright. That is partially hyperbolic, but you get the idea—do not shine this in the eyes of anyone you don't want to hurt. Extremely lightweight and compact (you can see it fits in the palm of a hand), easily concealable, and, as already covered, exceptionally bright, the EagleTac D25C is a powerful penlight flashlight and self-defense combination. Making this the best edc flashlight on our list!
It features four different brightness settings with a maximum output of 453 lumens, highest lumen pen light on our list making it one of the most powerful penlights currently available, which is why it costs a little more than most others. It also comes with 10 years of warranty service, so you can buy with confidence. This is truly an everyday carry light, as it is incredibly versatile and can be used in a variety of situations, both professional and personal.
---
ThorFire PF02 Tactical EDC Penlight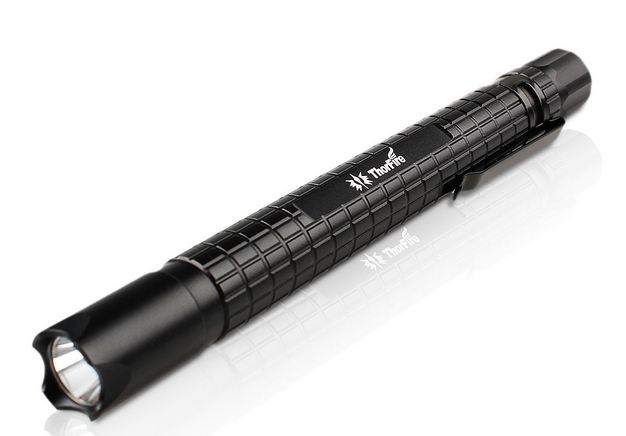 Aside from having one of the most awesome brand names ever, the ThorFire PF02 also boasts a shock-proof, IPX7 waterproof, and impact-resistant body made out of aircraft-grade aluminum alloy. It is the size of a marker pen, lightweight, and the perfect size for a pocket light. With a maximum output of over 100 lumens and three different operational modes, the PF02 ensures that its user will never be left in the dark.
---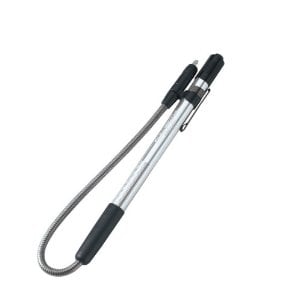 For the individual who needs to see into hard-to-reach places, there is the incredibly affordable Streamlight Stylus Reach. It has a maximum output of 11 lumens, a 24m beam distance, a body made out of aircraft aluminum and a 5mm LED that is shock-resistant and has a 100,000 hour lifespan. Additionally, the Streamlight Stylus Reach is water-resistant, rated at IPX4, and has an impact-resistance of 2m. It has a run time of 60 hours on three AAAA batteries, a flexible neck length of 7.5in which is encased and protected by PVC, and a non-slip knurled grip finish.
This is not the penlight for someone who requires an ultra-bright light, but it is great for those who do plumbing or automotive work as it allows them to see into small spaces, or DIYers who often find themselves in situations where a flashlight or normal penlight just is not the right tool for the job.
---
Also Read: Best Medical Penlights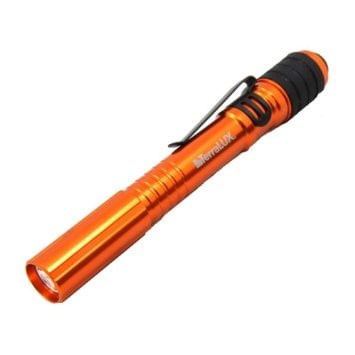 Never lose your penlight again with this bright orange, hard-to-miss penlight from Terralux! It uses a high CRI (Color Rendering Index) LED that shows colors better than any other LED. It weighs 2.2oz, is 5in long, and runs on 2 AAA batteries for a battery life of about 5 hours. It is durable, with a water-resistant body that is made out of thicker metal than some (though it still uses aircraft-grade aluminum) other similar products.
The LIghtStar80 has an maximum output of 80 lumens and the body features a bite grip so that the owner can use the light hands-free—this is something that most penlights do not have and is definitely a plus for people who need both hands for their work. This penlight would be a great choice for professionals who need to be able to accurately see color and who require a bright light source.
---
Conclusion
The next time you're stumped when trying to find a present for a friend, family member, or acquaintance, consider purchasing them a penlight. They are versatile, extremely useful, generally inexpensive, and easy to find. Buy one for yourself—they are so lightweight that you will likely forget that you even have on with you until you need it.