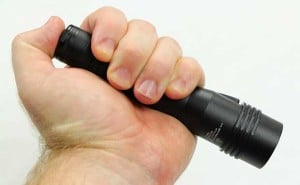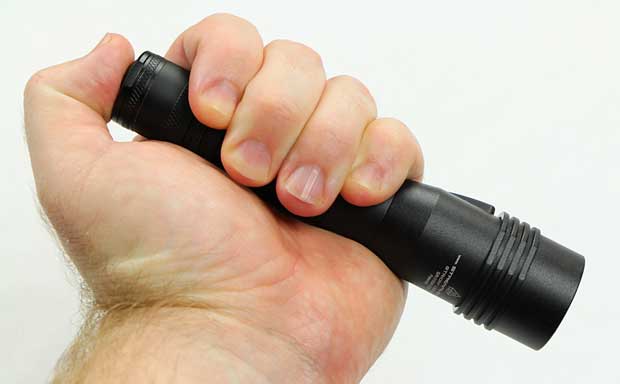 If you need a flashlight, there are countless models to choose from on the market. Most of them will be affordable and work just fine for your purposes. But if you want a tactical flashlight, all of a sudden we're talking about a whole different animal. These flashlights aren't just made to cast light, they're designed to put up with all kinds of wear and tear, yet keep on working just fine. For years, Streamlight has been considered one of the best manufacturers for tactical flashlights out there. With their Streamlight 74751 Strion LED HL Rechargeable High Lumen Professional Flashlight, they've definitely come up with a model you'll love. In fact, this one may be the best tactical flashlight on the market today.
Specs
First, let's talk about the actual specifications of this tactical flashlight. It's about 5.9 inches long with a diameter of 1.25 inches at the head. At the flange (which has a tri-lobe that ensures the flashlight doesn't roll away when you set it down), the diameter sits at 1.35 inches. Finally, at the barrel, you're looking at .95 inches. With the battery inside, this piece only weighs about 5.2 ounces.



So obviously you're getting a good sized flashlight here, but not one of those huge tactical flashlights that will be a pain to carry about. This model can sit nicely in your pocket or easily be stored in any of your vehicle's compartments as well.
Durable Design
Before we get into the performance of this flashlight, let's consider the outer shell. After all, without an exterior that can fend off wear and tear, whatever's inside isn't going to be much use to you either.

Streamlight did not pull any punches here. With this model, you'll be gripping 6000 series machined aircraft aluminum. This anodized aluminum sheath is not only durable, it comes with a knurled body that makes it easy to keep your grip when it matters most. Plus, the anodized finish not only adds to the material's performance, but looks great too.
Power Source
To get this bad boy up and running, all you need it one lithium ion battery. Fortunately, it comes included with this piece of equipment. The battery will provide 3.75V with 2000mAh at a minimum. Not only does it come with an on-board safety control mechanism, but you can also recharge the battery for up to 1,000 times. With the entire battery drained, it would only take three hours for the entire thing to come back to life, good as new. So you'll definitely be getting your money's worth with this battery in a number of different ways.
To turn it on, there's a simple multi-function switch to get the job done. There's also a push tailswitch for tactical response too. Either way, it only takes one hand to control the entire flashlight. Plus, with the 5.2 oz heft, you won't be getting tired of it any time soon.
Lighting
Alright, obviously, it would be impossible to classify this model as the best tactical flashlight on the market and never talk about what it can actually do when you flip the switch.
Fortunately, there are a lot of good things to say. First, the lens that displays the light on this model is borofloat hight temp glass. So you can leave that light running for as long as you want and not get stuck with any damage to the lens itself.
The light itself will come from a C4 LED source. Streamlight made it shock-resistant, so even in the worst of scenarios, it will keep on shining like nothing's happening. Plus, this flashlight comes with a 50,000 hour lifespan, so get to using it and enjoy the model for years to come.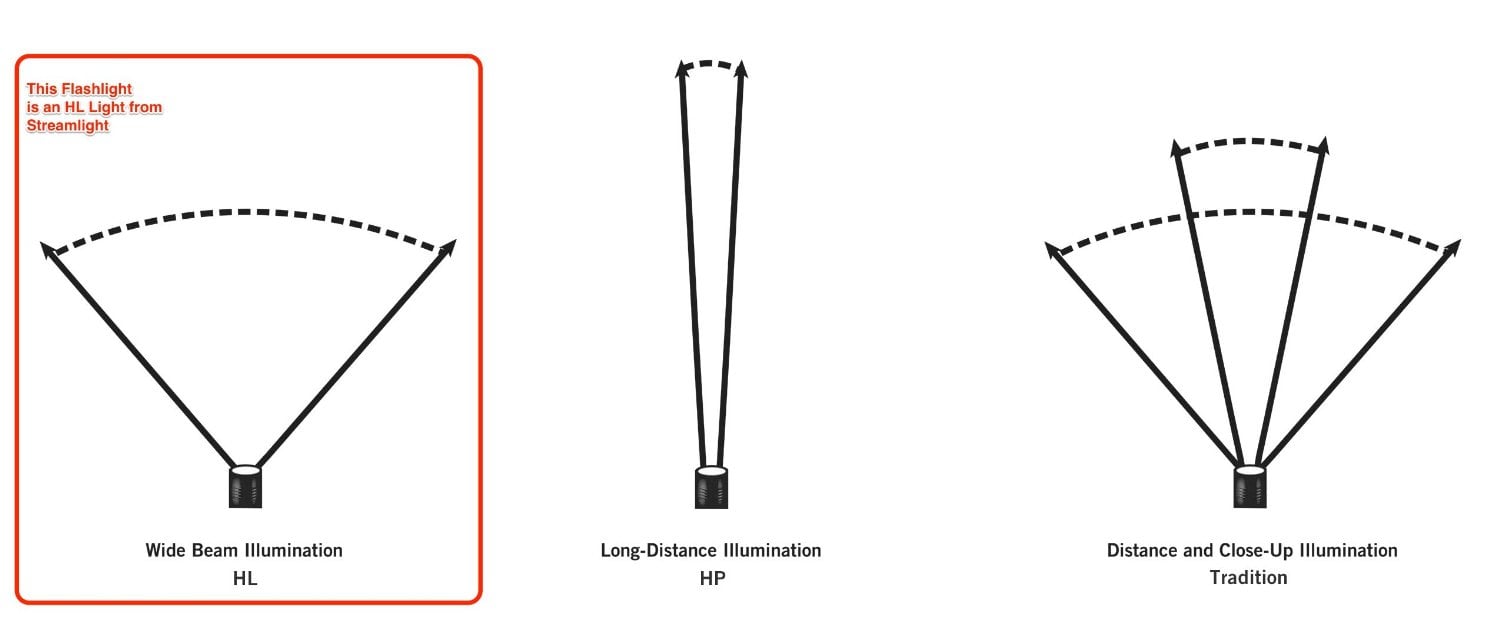 Furthermore, to get even more from your lens, the Streamlight 74751 Strion LED HL Rechargeable High Lumen Professional Flashlight was made with a deep parabolic reflector. What this means is that your light source is concentrated in the most effective way possible. There's still some peripheral illumination as well, of course, but the point is that all the battery in your flashlight won't be getting drained for the equivalent of buckshot.
Features
When put on high, this flashlight will consume 500 lumens, on medium, 250 lumens and on low, 125 lumens.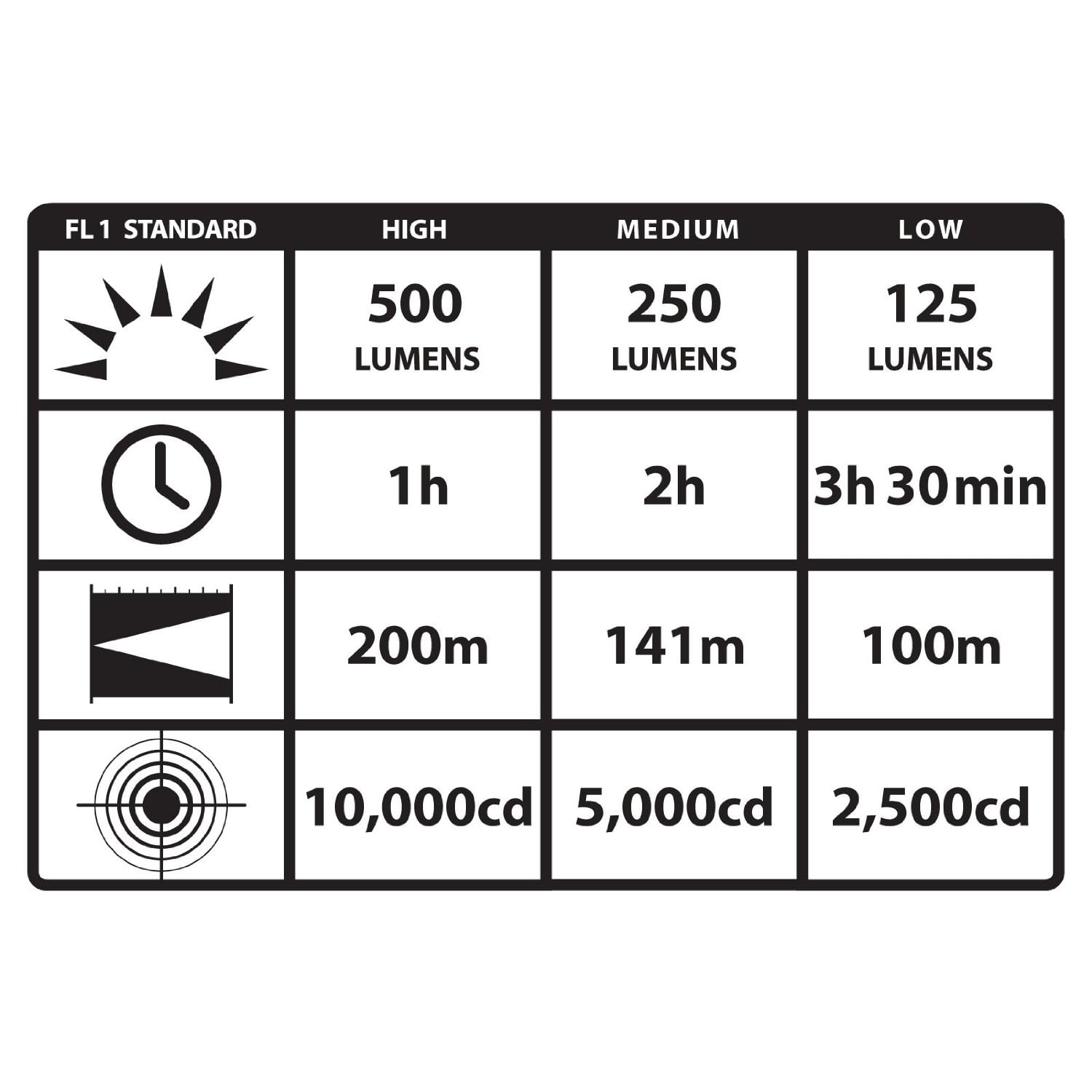 At these power settings, the light will last for an hour, two hours or three-and-a-half hours, respectively. If you put the light on strobe, it can go for 2.5 hours. Again, going down the list, these settings will have a light throw of 200, 141 or 100 meters.
So if you're in the market for a flashlight, the tactical variety won't disappoint for a number of reasons. Just be sure you know about the Streamlight 74751 Strion LED HL Rechargeable High Lumen Professional Flashlight and it should be an easy choice.