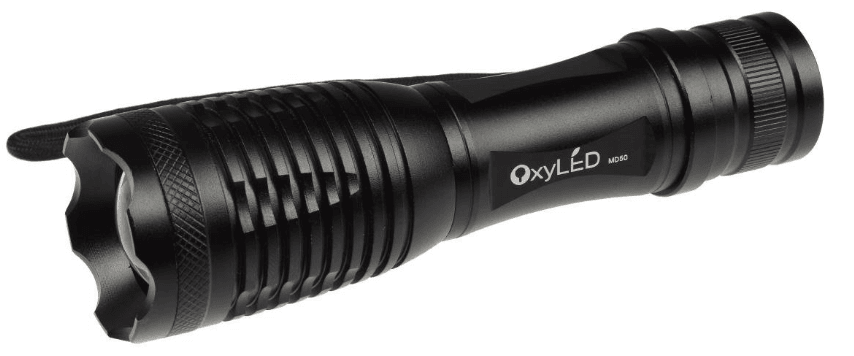 Looking for a small but powerful flashlight to light up nightlife like it was the middle of the day? Look no further and say hello to the OxyLED Cree 500 Lumen Bright LED Flashlight Torch.
OxyLED Cree 500 – General Information
The OxyLED is a compact EDC flashlight that packs quite a punch, considering its small size. It measures just over 5 inches in length and weighs less than 7oz., making it perfect for the car or bedside table.
It is also quite rugged as it is made out of aluminum alloy and is IPX-6 waterproof, meaning that it will function normally in heavy rain. The Cree LED bulb has a lifespan of at least 50,000 hours and only runs on one rechargeable lithium ion battery or three AAAs.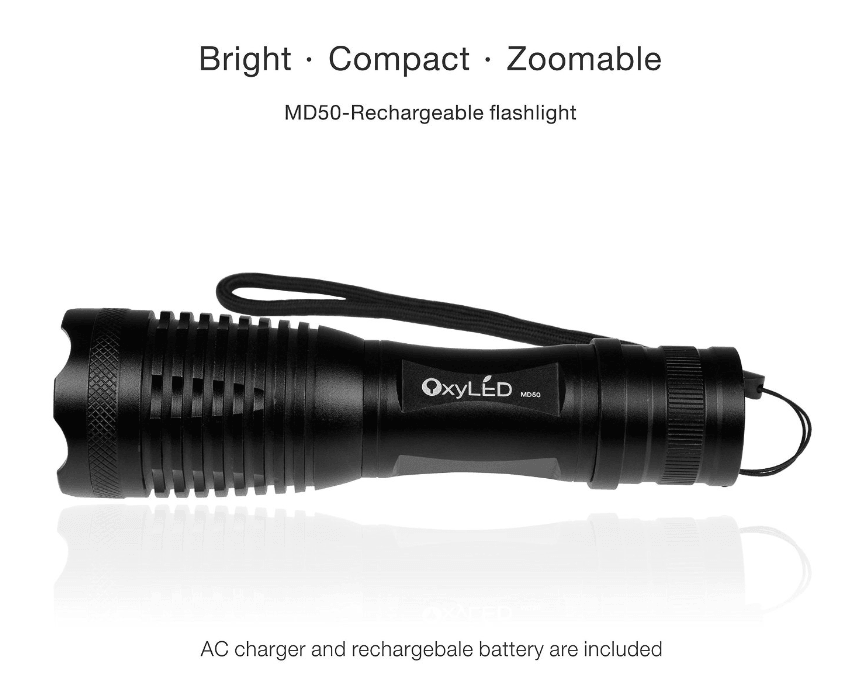 There are three brightness levels, with the maximum output being an impressive 500 lumens, and two special modes, SOS and strobe. It is also zoomable, allowing the user to adjust the focus of the beam depending on the situation.
Advantages
• Price: This is a compact, durable, and well-made flashlight that is capable of shining 500 lumens worth of bright white light and working in a variety of capacities. There are more expensive flashlights that do not have those kinds of specifications.
• EDC: This flashlight can go anywhere with you without weighing you down. It is perfect for camping, fishing, hunting, around the house use, and vehicle use because it is so light and small, while also being extremely bright.

• Light output: A maximum output of 500 lumens will supply the average person more than enough light to suit their needs. It is more than capable of lighting up the dark and would likely temporarily blind or at least stun any oncoming attacker.
• Special features: The OxyLED features three brightness modes, enabling it to adapt to any situation, as well as SOS and strobe capabilities, both of which come in very handy in emergencies, especially if one is lost in the dark.
Additionally, the strobe effect is another feature that can be used to stun or blind a threat. It also includes a zoom function, which most flashlights do not have. This allows the user to either focus the beam on a specific area or widen the beam to illuminate and entire area.
It should also be noted that more than one reviewer has observed that this flashlight is easy to get a firm grip on, giving it possible implications as a method of self-defense. In other words, if you're interested in carrying around a portable, light-up club like a super-advanced caveman, this is your product.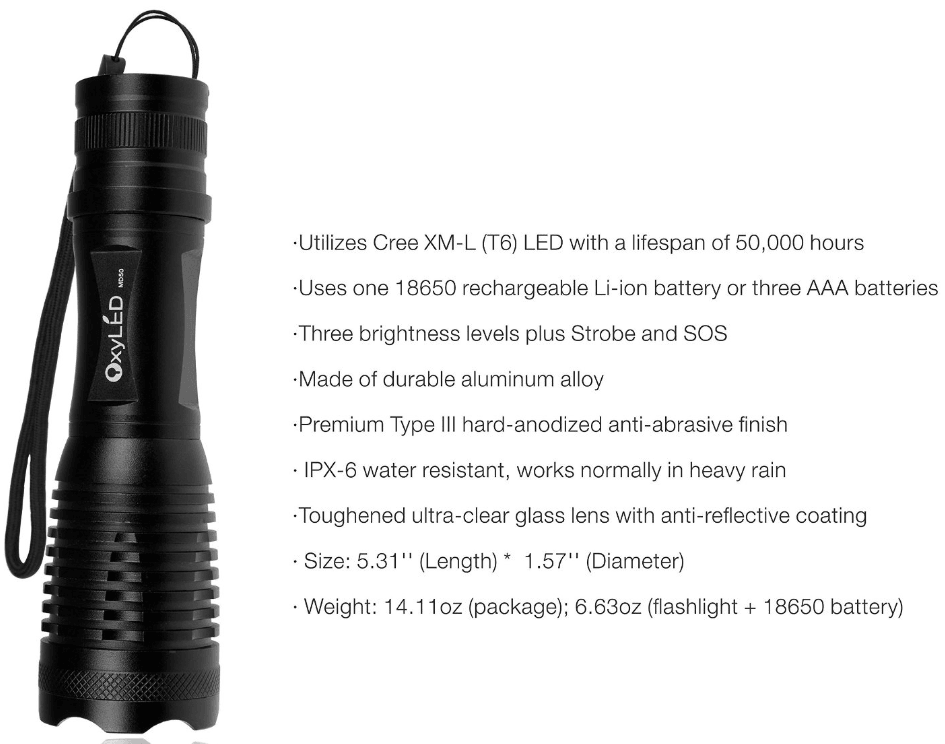 • Durable: Made out of aluminum alloy and able to withstand heavy rain, the OxyLED excels in outdoor activity use, from camping to spelunking to possibly signaling rescue airplanes if or when you end up stranded on an island or lost in the woods. (It's that bright. At least one reviewer described it as "retina-searing" and I find that to be an accurate description.)
Disadvantages
• Charging and changing the battery: This is a minor complaint, but charging and changing the battery is a hassle. First, it takes a day for the batteries to charge and to get them to charge, you must take them out of the flashlight.
• No memory function: Again, not a dealbreaker, but some may be disappointed by the fact that the OxyLED does not remember your settings after you turn it off and turn it on again.
Conclusion
Is this a product you should consider purchasing? Definitely yes! In fact, given the price, buy several so that every member of the family can have their own miniature spotlight. The superb quality, blindingly bright light, special features, and durability all exceed that of some flashlights that cost five times as much as the OxyLED.
This is the perfect flashlight for the outdoorsy individual or the person in need of a new EDC flashlight for home or vehicle use. Plus, given its ability to stun and blind and apparent club-like qualities, the OxyLED can also double as a basic self-defense tool, albeit one that would not be most people's first weapon choice.