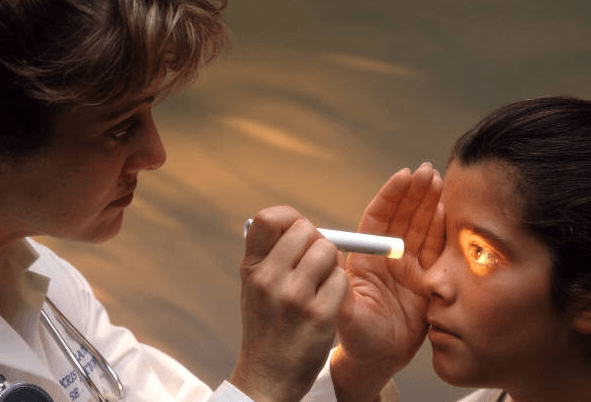 Our Top Choices
Any medical professional needs a reliable and well-made penlight. It should be bright enough to allow for sight, but not so bright that it blinds; it should also be durable, yet still very portable, and, of course, it must be affordable. If you are in the market for a new medical penlight, start your search here with this list of the best medical penlights.
A proper penlight that's rated for medical use will have multiple settings, allowing for the lower lumen output for checking your patient's eyes and the higher lumen setting for checking throats and ears.
Top 12 Best Medical Penlights Of 2023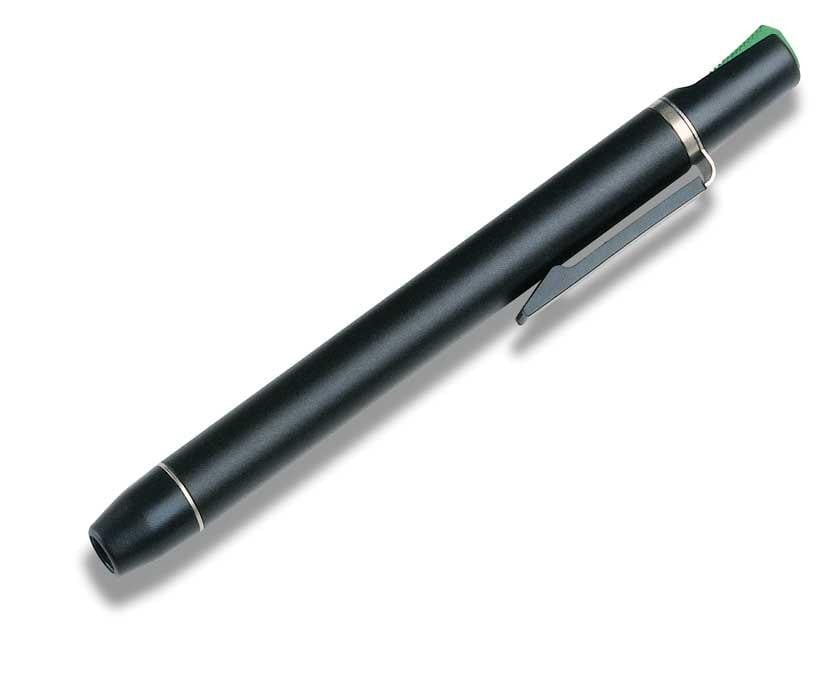 This Welch Allyn penlight is one of the best on the market.  Comes with a pocket clip, It's bright white halogen light and solid brass build, it is sure to not only be effective but to last years, which means no more replacing penlights every week or dealing with the hassle of a poorly constructed, cheaper product.
---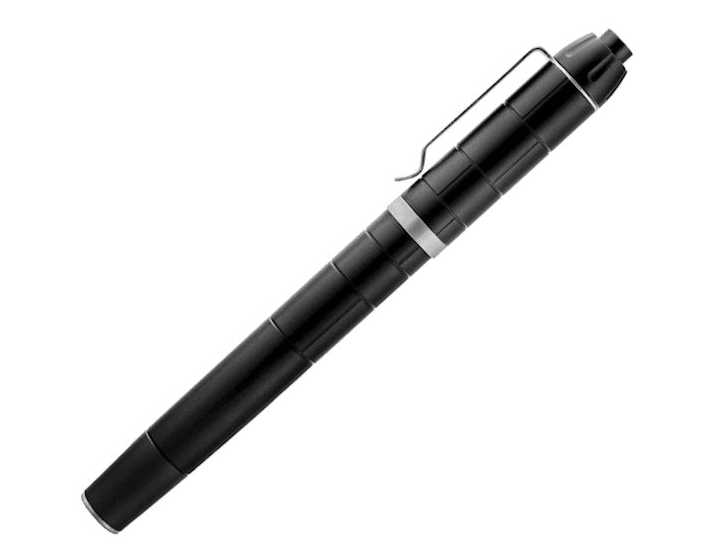 The Preon Penlight from FOURSEVENS is an industry favorite due to its bright output, different modes, and its incredibly sturdy construction. There are three different brightness options, with the maximum output being 180 lumens and the lowest being 5 lumens, This is the brightest penlight on our list. There is no pupil gauge, but that is a small price to pay for such a durable product.  ADC's penlight below may be the perfect flashlight for doctor's pupil examination.
The body is made of aircraft-grade aluminum and stainless steel and the lens is made of impact-resistant glass with sapphire coating on the outside to prevent scratches and physical damage and an anti-reflective coating on the inside to aid efficiency. It uses AAA batteries and has a memory function that will remember the last setting it was on during its last use.
It is also lightweight and highly portable, making it the perfect penlight for nurses or doctors.
---

For those prone to losing their penlights or having them "borrowed" by coworkers, it may not be fiscally responsible to spend a large amount of money on a penlight, which is why there are cheaper options, like this ADC Disposable Diagnostic Penlight. Even though they are disposable, they have an impressive battery life, though that seems to differ according to experience.
This is partially due to the difficulty of turning it on accidentally, which saves a lot of battery. It includes a handy pupil gauge, but it is not as bright as most other penlights. However, it is bright enough for simple eye exams and uses incandescent light for good tissue color rendition. This is another penlight that nurses will find helpful, though doctors may find it slightly dim for their needs.
---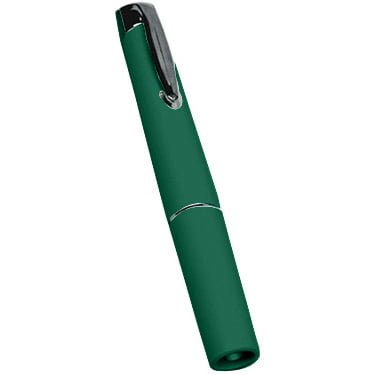 This is another affordable penlight that is ideal for those prone to losing their penlight. It comes in several different colors (green, red, blue, white, and black) and has a sturdy, stainless steel construction for durability. It is reusable with a bright light and simply a good, basic penlight for everyday use.
---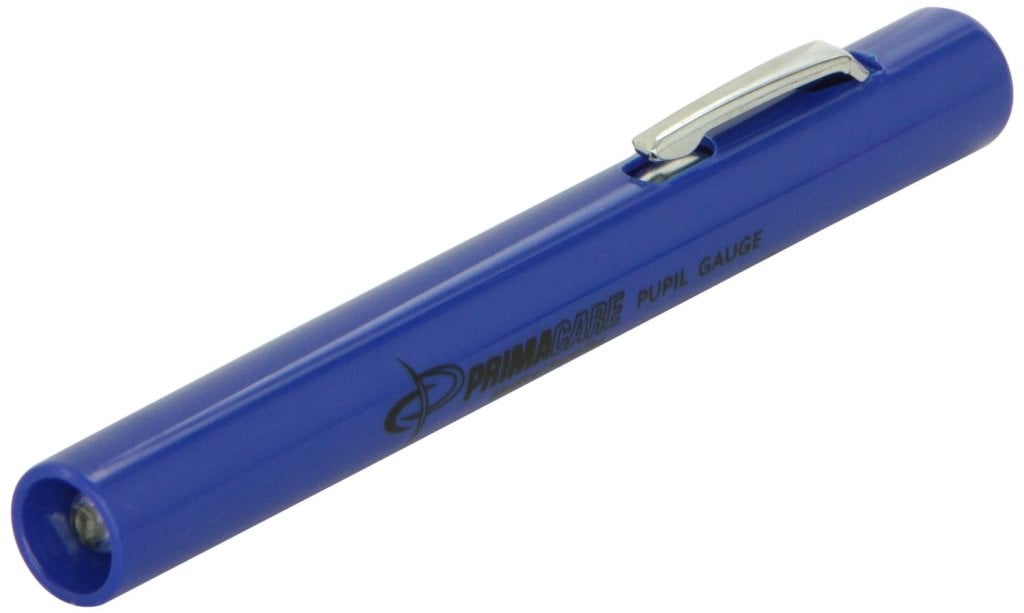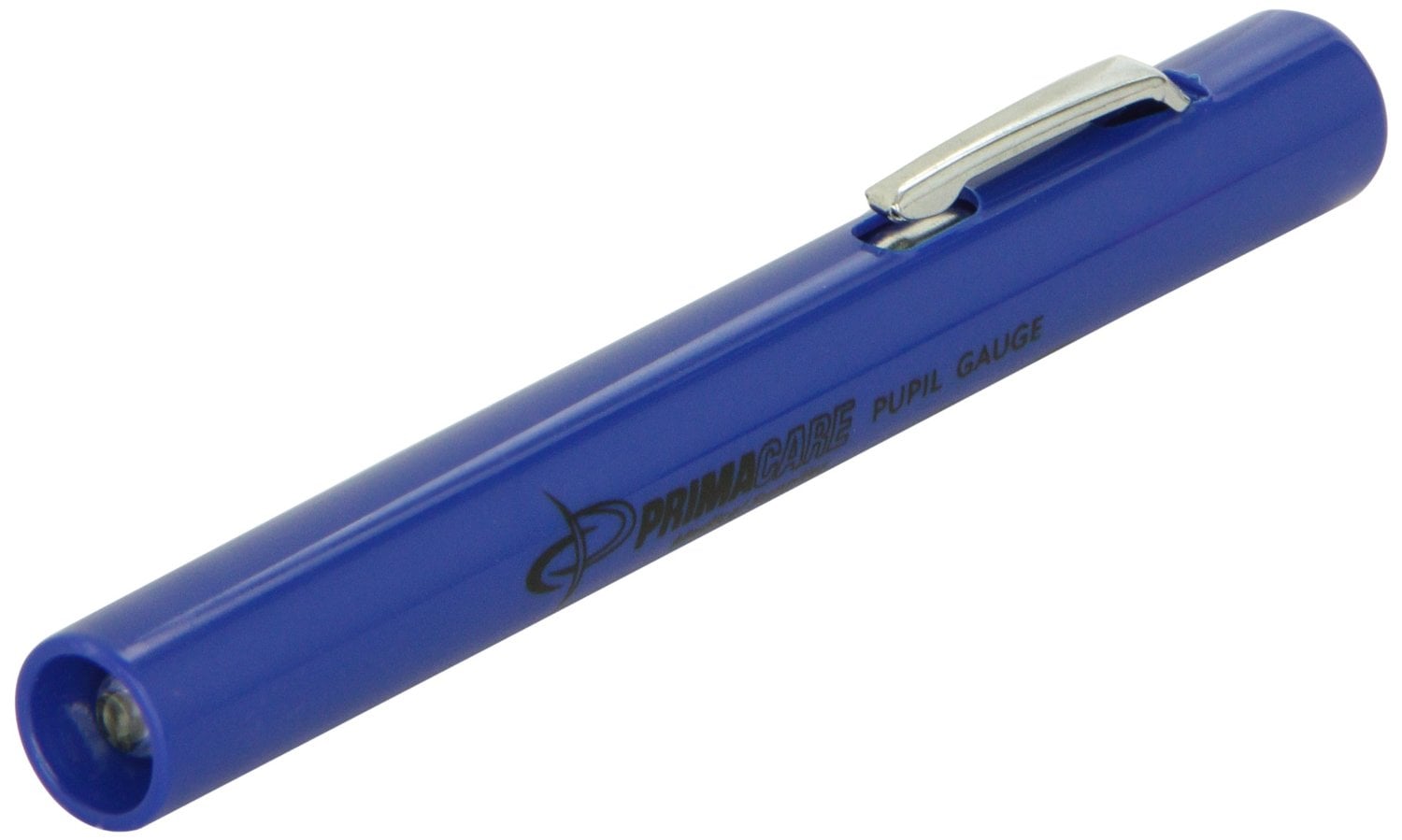 Primacare Disposable Diagnostic Penlights come in a pack of six, are easy to use, and can be used in a number of circumstances. It is made of lightweight molded plastic, has a sealed concentric warm light beam, an imprinted pupil gauge, and pre-focused pinpoint lens that directly illuminates not only eyes, but ears and throats as well. It comes in six colors: red, blue, green, purple, black, white, and orange.
While these are one of the more popular brands of disposable medical penlights, there have been some complaints about short battery life, but given the cost, it is easy to overlook minor flaws.
---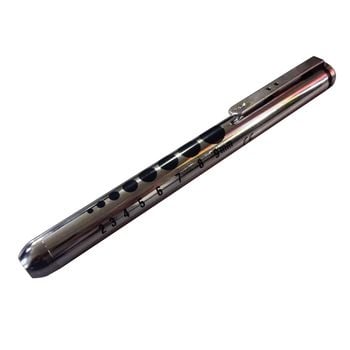 For those looking for a sleeker and more stylish penlight, there is the Patterson Medical High Intensity Penlight. It is 5in long with a .5in diameter and the body is chrome-plated. The unit runs on two AAA batteries and produces a nice, bright light perfect for use by the medical professional. For extra convenience, it comes with a pupil gauge and measurement tool, making it a great penlight for nurses.
---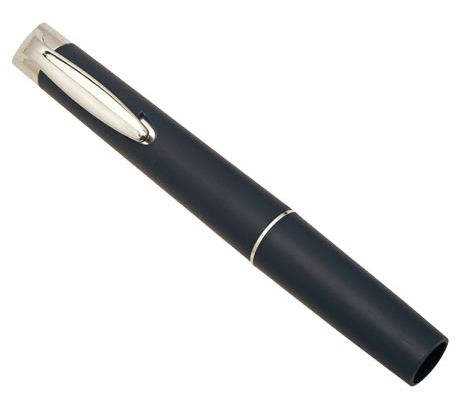 Super affordable and incredibly bright, the MDF Pocket Illuminator Diagnostic Penlight is a great buy. It comes with a pre-focused light, clip switch, moisture-resistant seals, and uses a halogen bulb for good tissue rendition and runs on two AAA batteries.
---

For those on a budget who don't want to sacrifice quality, there is the Dorcy Portable LED Pen Light. Its aluminum body is much more durable than its plastic counterparts and its 15 lumen maximum output will not cause people to go blind.
Additionally, the silver finish gives it a sleek look and high-tech feel while the metal clip is sure to keep the light in place when it is not in use. This Dorcy penlight also comes with a one-year limited warranty and two AAA batteries.
---
ZITRADES Diagnostic Reusable LED Penlight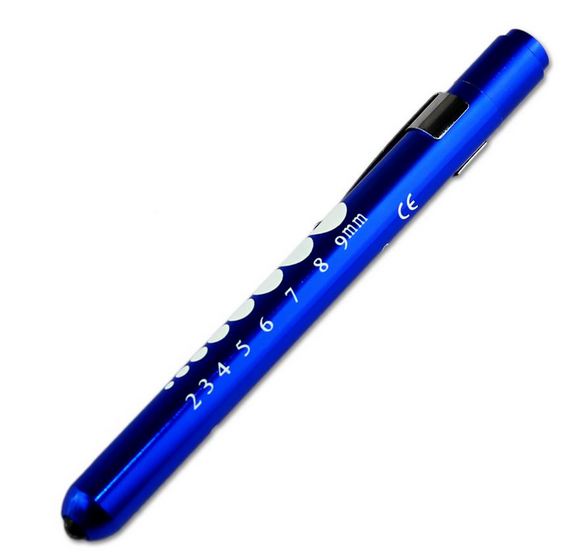 This is likely one of the best medical penlights in its price range, offering durability, brightness, and great design. The click mechanism is not as sensitive as those on other penlights and it does not usually come on unless it is pressed on purpose. This allows the penlight to save battery life.
It uses a white LED and a pre-focused pinpoint lens that easily illuminates eyes, ears, and throats and it also comes with a pupil gauge for added convenience.  Overall a great nursing penlight!
---
Fortelux High Intensity Deluxe Diagnostic Penlight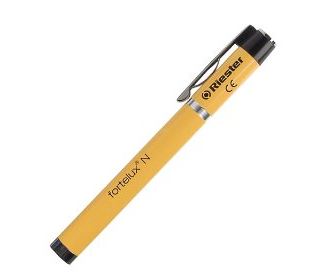 Made of sturdy aluminum alloy and featuring a sterilizable special lacquer coating, the Fortelux High Intensity Deluxe Diagnostic Penlight is durable and bright and perfectly suited for everyday use. Its strong metal clip ensures that it will not fall off of any clothing to which it is attached. It also comes in a variety of colors: yellow, blue, green, white, and black.
---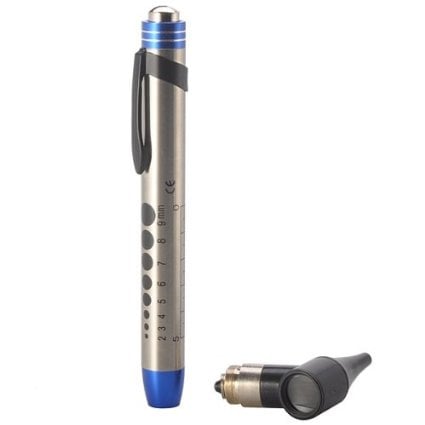 This penlight is a little different from the others in this list as it was specially formulated for professional ENT doctors. It has a free-focused high intensity bulb and comes with an attachable otoscope, making it useful for ears, noses, and throats. This penlight is extremely convenient and practical and affordable enough to try without having to worry about losing a lot of money.
---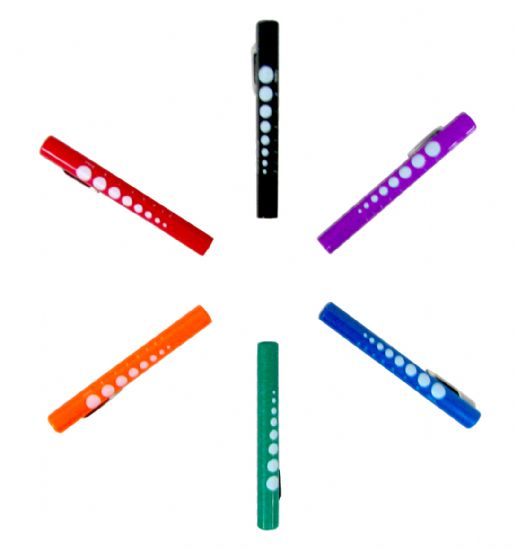 EMS personnel need penlights too! And their penlight needs are a little different from those of the nurses and doctors that work in clinics or hospitals. While those that work predominantly indoors under bright lighting need a high brightness output, EMTs need the opposite—a low lumen count so as to not blind their patients. However, the brighter pen lights should only be used to examine the patients' throats and not their eyes. Anything over 60 lumens can be dangerous for the human eye. You need to make sure the pen light you are considering is actually suitable for medical use
Dixie disposable penlights are equal in quality to reusable penlights, even those that are more expensive. They have an exceptionally long battery life as well as a pupil gauge.
Conclusion
When buying penlights, you won't find many reviews or buying guides, but luckily most of them are cheap enough so that an individual in the market for one can purchase various kinds and not be out of a large sum of money should they not perform to expectations. Some people may find that using penlights not necessarily labeled as "medical" or "diagnostic" may work just as well or better than penlights that are specifically for medical professionals.
Lastly, be sure to select the right type of penlight according to your job—EMTs need to make sure they purchase penlights with a lower lumen count, while those professionals who work indoors need a slightly stronger beam.