Whether you're in your home and the power is out or you're camping in the wilderness and need a tactical flashlight, you'll find some great options that not only are affordable, but they're also great at illumination and come with extra features for added power.
Best Budget Flashlight Of 2022
We're not going to mention tactical flashlights in this category simply because it deserves its own. Instead, we're going to mention powerful flashlights that are under budget and still provide adequate power for anyone's needs.
All of these models are LED, so they will use less overall battery power when in use and will provide a very strong beam.
We always choose LED over halogen type lights because they're much less power-intensive and produce a far brighter light. With a longer throw, they're the only option for serious owners.



Maglite gets it right with this model. Offered in a universal camo color, this flashlight is easily concealed in the woods and has a very powerful beam.
A few of the features are:
Projecting beam with rotating head for focus
Balanced optics
Intelligent energy source system
3 pound weight
Aluminum housing
VIDEO | Watch this Video Review of the MAGLITE ST3DMR6
You'll need to pop in three D batteries to power up this flashlight, but it's well worth it. A twist of the flashlight head will allow you to beam light at 131 lumens.
This model features a 364 meter throw, and the battery life should last approximately 79 hours on average. Featuring 3D-Cell technology, the beam is extra bright. With a length of 14.7", you can also use this flashlight for protection.
Learn More: MAGLITE ST3DMR6
---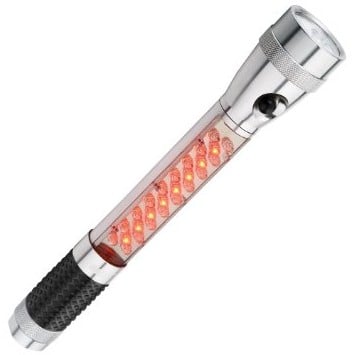 INGEAR provides a 3-in-1 flashlight that is extremely powerful and features a military-grade construction. The company is so sure of their product that they even included a 1-year warranty so that if it breaks, you'll get it replaced.
A few of the features you'll get with this model are:
High-powered magnet
33 LED lights
280 Lumen
Lantern light
Flashing mode


Besides a super powerful 280 lumens, this flashlight features a 3-in-1 design that is so unique, we just had to go in detail:
Traditional: The front light is in the traditional form and acts as a standard flashlight.
Lantern: The handle is surrounded in LED lights. Switch to lantern mode if you need close light.
Red Flashing Mode: In an accident or need to alert someone to call for help? The red flashing mode allows you to do this.
One other neat feature is that there is a very strong magnet attached to this flashlight. You can put it up against your car and take off your tire with lantern mode activated. It's the perfect option for changing a spare tire. For work, this is the perfect flashlight.
The manufacturer even includes the 3 AAA batteries necessary to run this model.
Learn More: INGEAR 3-in-1
---
Best Budget Tactical Flashlight Of 2022
Traditionally, tactical flashlights are meant to be mounted to a gun for tactical use in the military, or they're carried along by police when going to find an assailant. One misconception is that these flashlights are meant to be longer in size so that you can baton someone if needed. This is a fallacy.
Normally, these flashlights are smaller in size so that they're easily carried and don't weigh a rifle down. However, now many of these models come with a little extra surprise – a stun gun. If you're not trying to kill the target, you can blind them with the light and stun them before they know what hit them.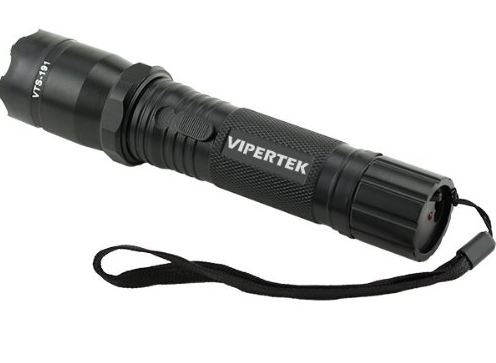 When it comes to safety, Vipertek is the flashlight of choice. Why? To start, it comes with an internal battery that is easily recharged, so you don't need to worry about spending a bundle on batteries. This model also features 200 lumen brightness.
Aircraft grade metal is used on the Vipertek, so you never have to worry about it breaking while in use.
Let's see the features of this flashlight at a glance:
100,000 hour bulb
Rechargeable, internal battery
Lifetime warranty
200 Lumen
25MV stun gun
VIDEO | Watch this Video Review of the VIPERTEK VTS-191
You read that last feature right. With a smaller size of 6.75", you won't be using this as a baton in most situations. Instead, if an animal approaches or someone tries to mug you, you can use the built-in stun gun to hold them off.
If you have to use this light as a stun gun, you'll need to keep in mind that the voltage output will depend on the battery level. Ideally, you'll keep this model charged well so that in case of an emergency, you can stun an attacker and bring them to their knees.
Does it work? Absolutely. It provides a great jolt that will disrupt an attacker of any size.
Learn More: VIPERTEK VTS-191
---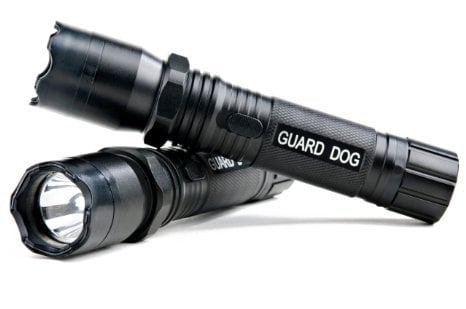 Guard Dog provides another flashlight that doubles as a stun gun with no visible probes.  In fact, this flashlight is so powerful that it's near blinding. You definitely don't want to look directly into the beam.
A full metal body is also present, which makes this a great choice if you need to hit someone or attempt to hammer something with your flashlight. There's even a wrist strap to allow for the utmost in control when using this model.
The Guard Dog Security features:
160 lumen
All-metal body
Inner stun technology
Wrist strap and holster
Lifetime warranty
Built-in battery
VIDEO | Guard Dog Diablo Tactical Stun Gun Flashlight
This is a smaller tactical flashlight since it's in the 6 inch range, but its powerful stun gun will bring an assailant to their knees. You can hear the crack of the electric pulse as you turn on your flashlight, which is often more than enough to scare anyone away.
So, what's the best budget flashlight? This is a tough question to answer. We liked every model we currently mentioned, but if we were left with just two, we would pick the following models:
With the INGEAR, you have so much functionality that's almost impossible not to like. You get the lantern style lighting which is really beneficial, and you also get the red light warning for emergency situations. With this light having a strong magnet, you can use it when working on the car or you can attach it to an oil drum when at work. With so much functionality, you'll love having the INGEAR by your side.
The Guard Dog would be our choice for tactical flashlights. This model is powerful and compact, which is what you want in a tactical model. The 300 lumen beats out our previous choice and will provide blinding light that will stop a target in its tracks. With the hidden stun gun probes, you'll also be able to use this flashlight to bring someone down to their knees if needed for protection. It's the perfect balance between functionality and affordability.