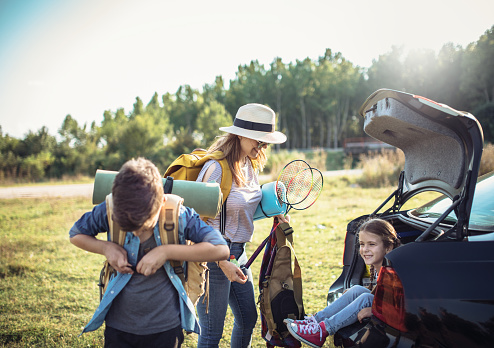 Tips to make it a successfully trip
1. build your kids enthusiasm- get them involved in packing and planning like choosing where to go, what to eat, ect.
2. pick actives for during the trip your kids enjoy such as biking, swimming, hiking, watching nature ect and plan to stay somewhere that you can do these things.
3. practice setting up the tent before you leave the house. Have the kids help and then allow them to play pretend camp in it for a little while. Maybe a sleep over in the yard for new campers.
4. make and use a check list of items you want to bring and only check them off once they are inside of the car. That way nothing like you child's favorite blanket or stuffed toy gets left behind.
5. Always pack tactical flashlights (flashlight for kids) are available too. Preferably one for each family member. And don't forget batteries.
6. make a kid friendly easy menu. Don't get carried away and make things hard on yourself or your kids by trying lots of new recipes. Stick with favorites like hot dogs, bagels and peanut butter, apples, bananas, canned soup, corn on the cob, and most importantly don't forget the s'mores. Also if you have a baby pack its food it baby food jars. This will be easier for everyone.
7. bring snacks. Trail mix, cereal bars, string cheese, dried food are great for snaking on when camping. Something about the outdoors makes people hungry.
8. bring a first aid kit along with bug repellent, sunscreen and stuff to treat the possibly poison ivy out break.
9. bring items to clean up with. You will need trash bags, paper or preferably plastic plates, soap to wash items, Clorox wipes are great to wipe down picnic tables or anything else you may want to sanitize first.
10. other items you will need include: a piece for thick string or rope to make a clothes line ( great for hanging swim gear and towels), also large plastic tarps to put under the tent (even when they say it wont rain its best to play it safe, no one likes wet beds or clothes in the morning.)
11. make memories and have fun. Get the kid involved with camp chores make a game out of it. Let them gather firewood and see who has the biggest pile, race to see who can get things clean the fastest, or who is the most organized. If you make these trips fun then not only will it be easier on you but your kids will want to keep coming back year after year and then you have a family tradition. And don't forget to play some fun games with your kids such as flashlight tag, campfire songs, or just looking at the stars.
Here are some great camping tents for families and children
* tip to remember when choosing a tent is that the number of persons it holds is with people cramped together and no stuff inside the tent. So your best bet is to divide the number of max people is holds in half to best fit your family. Also keep in mid this number is based on adults.
Family Tents
1. Kelty Green River 4 person tent
2. Jeep 14′ x 12′ family Dome Tent (8 person tent)
3. Ozark Trail 16′ x 9.5′ family dome tent (7 person tent)
Kids Tents
1. coleman milky way kids tent
2. coleman for kids frontier combo camping tent package
3. texsport brookwood youth dome tent (2-3 kids)
4. Disney 5 piece camping kit (styles are cars and princess)
awesome sleeping bags
Parents-
1. coleman queen sized hibernation 40 degree bag (sleeps 2)
2. wenzel santa fe 20 degree mummy bag
3. swissgear engelberg 15 degree bag
kids sleeping bags
1. Kodiak kids sleeping bag comes in blue or pink
2. coleman lights out 50 degree bag (perfect for older girls as well)
3. Kodiak k-cold 1.5 lb. mummy bag (awesome for older boys)
4. coleman sleeping diva 50 degree bag pink (perfect for sassy moms or older girls)
Camping chairs
Adult:
1. kalisto two-position beach chair
2. mac sports the big boy super-sized chair ( 350 lb. capacity)
kids:
1. kelsyus original canopy chair (available in different colors)
Also Read: Top 8 Camping Trip Safety Reminders