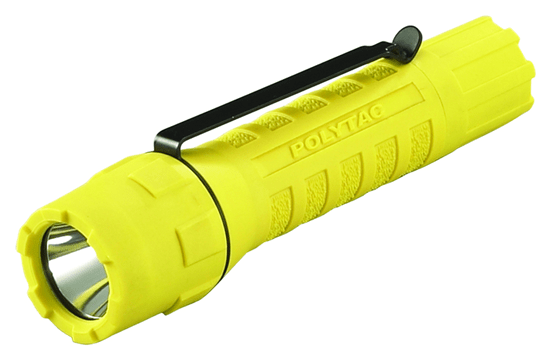 The PolyTac comes in the C4 LED bulb. Comparing the C4 LED to the Xenon, 275 lumens vs 72 lumens, 3 hour runtime vs 1 1/3 hour runtime, 50,000 hour bulb vs 30 hour bulb, it's clear the C4 LED is the winner. The PolyTac's competition is Surefire's G2 LED. The G2 has been updated with an aluminum bezel.
PolyTac Pros
275 lumens is blinding bright. The PolyTac has plenty of power for your everyday tactical flashlight. The light is bluish-white in color and throws far, the brightest concentrated heavily in the center.
The modes on the PolyTac are high,strobe and low. It's great to have the low light and strobe modes but in a true emergency situation, a tactical flashlight only needs to turn on and off.
The size of the PolyTac feels great in the hand. This is especially true in conjunction with a pistol with the Harries or Rogers technique. Also can be mounted on your helmet If you're a firefighter and is a great overall firefighter flashlight.
The PolyTac is affordable.
PolyTac Cons
I find myself reaching for something negative to say about the PolyTac. At first, I thought the PolyTac is a little bulky for an EDC light for civilians but when holding it in the hand, I wouldn't want it too much smaller. A checkered style grip pattern might be beneficial for sweaty hands or wet weather.
Final Thoughts
I wouldn't hesitate in purchasing the PolyTac C4 LED. You get the most bang for your buck. The PolyTac is reliable and effective as a tactical flashlight. It's bright and feels great in the hand in conjunction with a handgun. The best holster I found for the PolyTac is made by Galco.