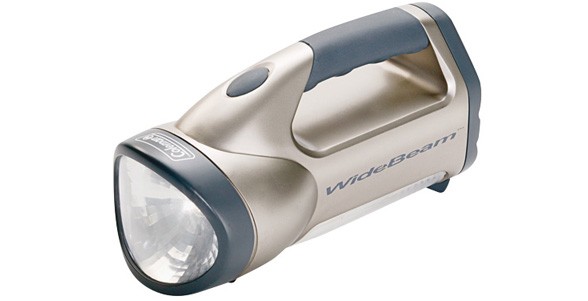 I got my Coleman 4D Dual Action WideBeam Flashlight for free from a Malboro promotion this summer. I wasn't expecting much. Was I ever surprised when it arrived! Not only was it free, it looked like a great flashlight.
Its attractive design, sturdy construction, and soft rubber hand grip made the flashlight feel great in my hand. The accompanying literature described the features of this flashlight. Claims to cover 140 degrees in the path finder mode and a u-tube fluorescent light that functions as a lantern sounded too good to be true.
That night when I discovered I needed something from my car, I decided to try it out and see if this flashlight would live up to its claims.
When I stepped outside in the blackness, a simple click illuminated the path to my car. The Coleman WideBeam Flashlight provided all the light I needed to find my way to my car with ease. But what about the claims of a 140 degree path of light? Would it really measure up?
Although I didn't actually measure the degrees, I can tell you that the flashlight's direct beam was bright and reached over 25 yards. A softer light extended for about 20 feet on either side of the path. It was not necessary to redirect the light to follow the path to my car. I could easily see everything on either side of the path of light.
With another click, the fluorescent lantern engaged. I must admit I was a little surprised at how well this feature worked. I expected a glow of light that would illuminate the area around my car. What I got instead was a soft glow of light that illuminated not only the general vicinity of my car, but the entire front yard. The lantern easily illuminated the area in a 25 yard radius.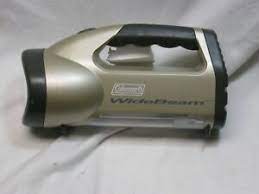 I soon discovered that the Coleman WideBeam Flashlight had a flat bottom that was designed to allow the user to set the flashlight down on a flat surface for hands free operation. No more fumbling with the keys and the flashlight to unlock my car. I simply set the flashlight on the top of the car and had all the light I needed to find just the right key and open the door.
This flashlight has proved to be a valuable tool for my family. Not only is it a great flashlight for seeing farther away in the dark outside, the lantern is also great for when the electricity goes out. With the lantern function, the flashlight can be set on the tabletop or any flat surface and provide adequate light for the entire room.
I would recommend this flashlight to anyone who needs a good reliable source of light that is easy to operate, dependable, and affordable.
The Coleman 4D WideBeam Dual Action Flashlight sells for just under $25, operates on 4 D batteries, and comes with a 3 year manufacturer guarantee.