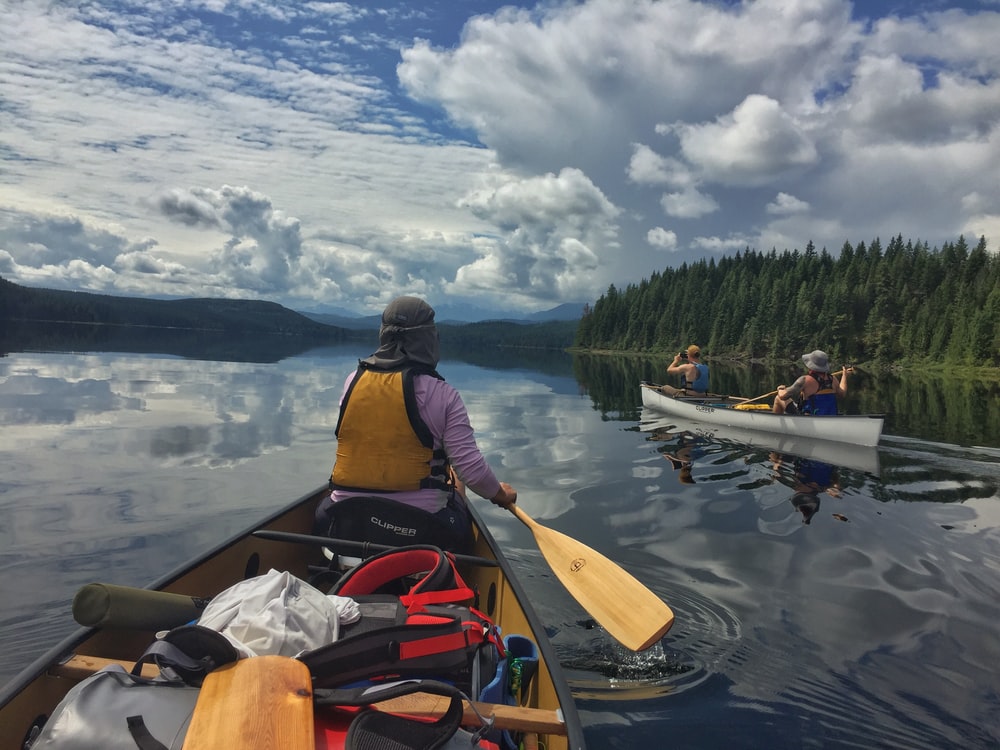 Here are a few tips on how to plan a great mini-vacation camping and canoeing in northern Michigan, or anywhere else you find a campground and canoe livery.
1. Plan well in advance.
Canoe liveries have very short seasons in locations such as northern Michigan; however, they do fill up most weekends in July and August. If you want a prime-time weekend, be sure to make your reservations well in advanced. If you make the reservation as soon as you know exactly who will be coming, you are less likely to be disappointed.
2. Avoid weekends if you can help it, but if you can't, try to avoid Saturdays.
If at all possible, avoid Saturdays in July and August if you want to avoid the crowds. With a little planning, you will be able to have a much more relaxing mini-vacation with friends and family. In addition, if you are able to go during the week, you may see a lot of wildlife on the river. For example, if you plan a weekday trip down the Rifle River in Omer, Michigan, you may just see bald eagles, deer, muskrats, turtles, and more.
3. Get your money up front.
Once you make reservation, more likely than not you will be required to put half of the total amount down as a reservation deposit. Different liveries and campgrounds have different policies regarding cancellation. Be sure to ask once you make the reservation. However, if you are planning a large trip with a big group of friends, it is best to get half of the money from them up front. A lot of group organizers fail to do so and they are out the money once their friends cancel at the last minute. This is just a simple trick to keep the organizer from getting burned.
4. You can always change your reservation; only reserve what you need.
Some organizers make the mistake of reserving more equipment and camping space than absolutely necessary. This prevents the business owner from utilizing the resources and can once again leave the organizer holding the bag. Only reserve exactly what you need. If you do need to add onto your reservation, you can add on.
5. Get the price per person, per couple, or per family – what ever is easiest for you.
Before you make the reservation, call ahead and get a breakdown of the price per person, per couple, or per family – whatever best describes your group. You will then be able to relate the information to everyone else and get that deposit upfront.
6. Ask about the amenities up front.
When you call regarding pricing, you will want to ask about the amenities. Does this location cater to families or younger crowds that like to party? What else is there to do in the area? Do they have other options other than canoeing and tubing, such as kayaks, rafts, and similar items? If you can, try searching for the location on-line. Many canoe liveries and campgrounds now have websites that give detailed pricing information and lists of amenities. You will want to make sure that the campground has showers and flush toilets, unless, of course, you want a more rustic experience.
7. Get a name and ask for receipt once you've paid your deposit.
When you do finally make that reservation, get the name of the employee who took it. In addition, ask for a receipt once you've paid your deposit. If you have to call back, you will want to deal with someone who knows your reservation, although anyone you speak with should be able to help you.
Last, but not least: relax. You are going camping and canoeing to have a great time. It doesn't take much work to have a wonderful summer weekend in the great outdoors.