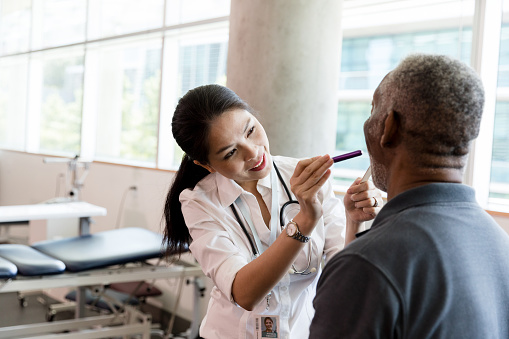 Over the last year decades, we have progressed immensely in the world of medical science. Everyday we are gathering more and more data and furthering our understanding of how our bodies work and with this new data, we have drastically improved the way in which we address medical issues. With the introduction of constantly improving methods, the equipment that we use has also had to evolve. There has been plenty of medical equipment that has seen many changes, but it may surprise you to know that among this ever evolving equipment is medical lighting.
Right now, most medical professionals favor the use of a medical penlight for their everyday medical tasks, but what is a medical penlight and how do you use it correctly?
What is a medical penlight?

If you are someone that works as a doctor, nurse or EMT, then you will spend a lot of your time monitoring people. If you are monitoring someone who appears to be experiencing medical issues, one of the main things that you will look at is the pupils of your patient. Assessing the pupil of a patient allows you to gain an idea of which medical issues they may be suffering from as the pupil often reacts differently to light when someone is suffering from certain ailments.
A medical penlight is the best tool that you can use to assess someone's condition. Doctors and nurses will use a penlight for eye exams as they use an LED light to streamline a light source into the pupil and produce almost immediate results due to how quickly they are able to change the diameter of the pupil.
Not only are they effective tools when examining the eye, but due to their small size they are also perfect tools for examining the back of the throat and due to this, some come with special features that prevent the tongue from obstructing the view of the medical professional, but you should make sure that the penlight you choose is rated for medical use.
How do you use a medical penlight correctly?
There are many useful ways in which medical penlights can be used, but you need to know how to use them correctly in order to gain anything from using them.
Depending on what the intended use of the medical penlight is, it is important to check the lumens of the penlight before use. This is an important step because different brands of penlights usually have different light intensities. If you are going to be examining someone's eyes, you will be wanting to use low lighting, so be sure to check the intensity of your penlight.
You should also know how to change the batteries for your penlight, and it's a good idea to have some spare batteries for when your penlight does run out of power.
How to use a penlight correctly when doing an eye examination
If you are going to be using a medical penlight to examine a patient's pupil, you need to do it correctly as using the penlight incorrectly could cause further damage. You want to make sure that you have a couple of inches of distance between your penlight and the eye of the patient, this is because it is unnecessary to get too close to the eye and direct exposure may cause retinal damage.
To properly complete an eye examination, pass the light from eye to eye as this will test the responses of the patient and will also trigger any pupil response, without leading to constant exposure.
Cleanliness
If you plan on using a medical penlight as a part of your profession, you need to make sure that your penlight is properly sanitized. This is important as a medical penlight can be used to examine many parts of different patients and so may come in contact with germs that you don't want to pass on to another patient.  Any hospital or general practice should have a sanitisation station, so be sure to make use of it. Your penlight will usually have a clip and plastic covering that you can put on top of your penlight in between uses and this will stop any exposure to germs.
How to correctly use a penlight when doing a throat examination
A medical penlight is an important tool when completing an oral examination as the light that it provides lets medical examiners inspect hard to see places. Due to just how difficult it can be to see into throats, it is important that you know how to currently use the penlight. If you want to take an in depth look into the throat, you need to make sure that your view is not obstructed. You can place the light onto the tongue in order to get it out of the way, or if you use the right light, it should come with an already built in tool to flatten the tongue.
Using a medical penlight is not a difficult process and so there really isn't much to it. As long as you keep hygiene and distance in mind when using the pen, you should have no problems and find the tool to be quite useful.