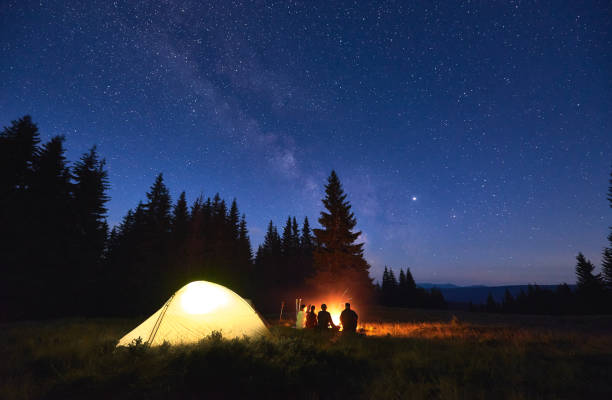 Stars, moon, owls, howls-all a part of the nighttime camping experience. When the sun goes down, a good flashlight helps the night-loving camper get around in safety. Inadequate lighting could lead to getting lost or hurt far away from civilization. In the rush to pack, choose your flashlight wisely. Consider the different features which appeal to your needs. The following are reviews of three of this season's most popular flashlights for the night-dwelling camper.
LUMILITE Z-LITE with 6-POSITION STAND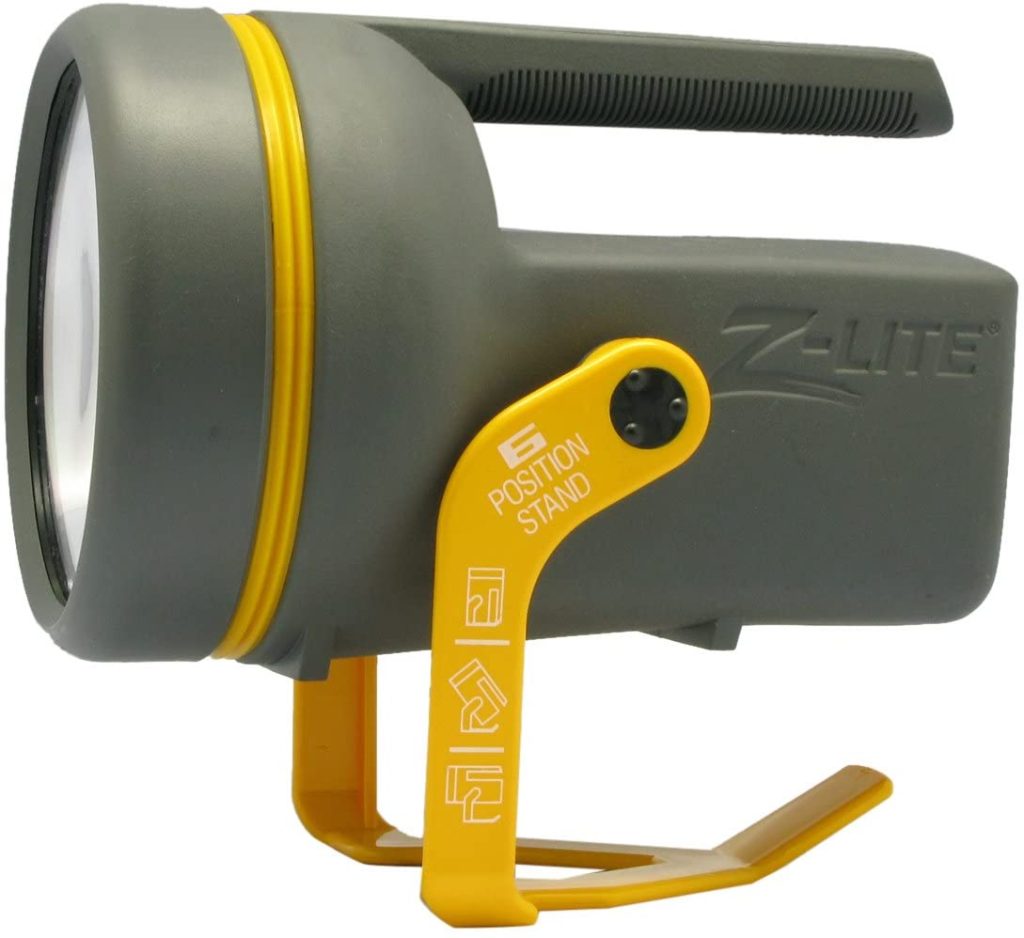 The most appealing part of this flashlight is the 6-position stand. One can place the flashlight down and have the light aimed in any of the six angles, hands free. (No more roll-away flashlights or flashlight-in-the-mouth techniques to work with both hands in the dark). It is adequate for in-tent use and for getting around within camp quarters, but the light is not very strong for long-distance searching. It also makes a great spotlight for nighttime camp skits. It requires 4 D batteries which add to the weight. Considering the size of the flashlight, (about 8-inches long, 4 ½ inches diameter head and weighing about 5.8 lbs with batteries,) the strength of the light is rather weak. If your backpack is cramped for space, you may want to consider a smaller flashlight that will give you more light power for your punch. However, it is a good flashlight to keep around the house in case of blackouts or in your car in case of a nighttime flat.
MEGABRITE SELF-POWERED SUPER BRIGHT LED FLASHLIGHT and EMERGENCY FLASHER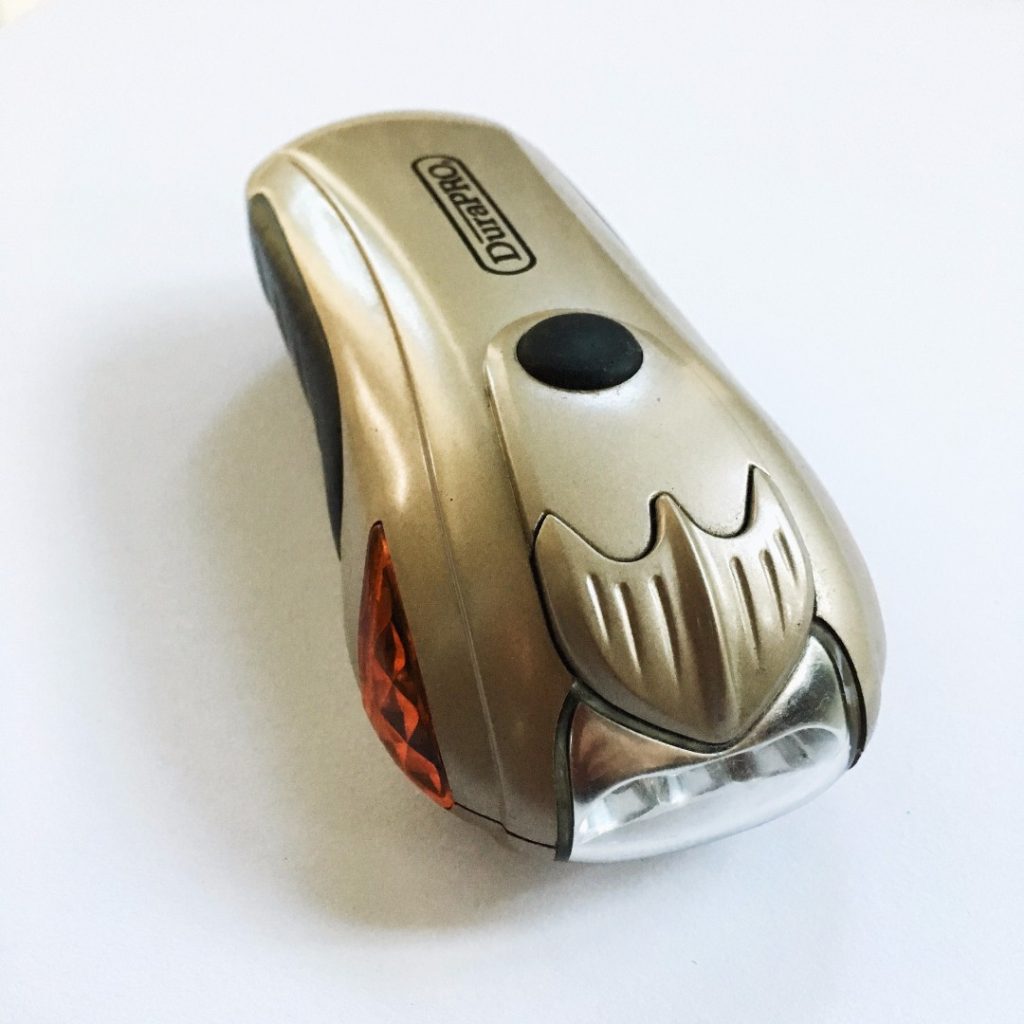 One of the most popular flashlights this season, it seems that every camp store and every wholesale warehouse sell these by the box loads to camping groups. When I went to a public campground last week, these MegaBRITEs abundantly flashed from all campsites-so be sure to label yours. The neatest feature of this handheld light is its self-powered capability. The package claims that one minute's worth of winding equals up to 45 minutes of light, but this flashlight exceeded my expectations by burning steadily for one and a half hours. That means no messing with batteries and no reason to carry extra AAs just in case – keeping your overall gear very light. The flattened shape is ideal to place down on a flat surface without having to worry about it rolling away. The rubberized sides make it easy to grip, although smaller hands may have a bit of a problem holding on. The never-need-replacing LED light is quite impressive for such a small handheld and the emergency flasher modes are great for roadside warnings. (It flashes white and red). It is extremely easy to wind. The lifetime warranty is also attractive. The only real drawbacks are: 1) There is no lanyard or handle feature to hang the flashlight for hands free use 2) It is inconvenient when the light dims in the middle of a project and you have to do your one minute of winding again. (Try having it dim while you are taking your nighttime-nature-restroom break.) However, this can be remedied by winding it on occasion before doing your business. Overall, for the price and for the convenient features, this is a great lightweight handheld flashlight that I'd recommend to anyone.
MINI MAGLITE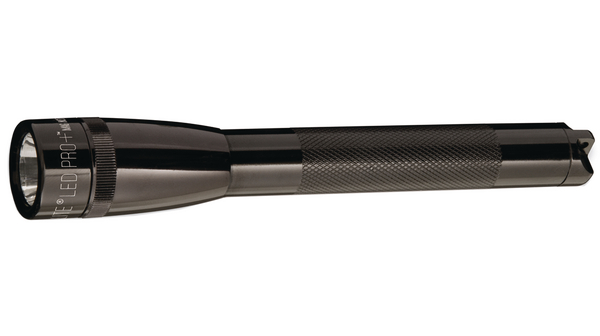 This mini powerhouse is one of the easiest flashlights to carry. A twist of the head turns on the adjustable light which ranges from a narrow and intense beam to a wider and softer beam. The water resistant steel casing is a strong shell which snugly houses the two AA batteries that stay put without juggling. This means the beam is constant and uninterrupted, even when you are in motion. I dropped it several times and the steady light service did not decrease in any way. It is a little less than six inches in length, and the head of the flashlight is one inch in diameter-making for a very convenient pocket-sized tool. There is even an attachment area for adding lanyards or hooks. The Mini is great for close-range lighting, but not for long-range view. The rounded feature causes the MiniMag to roll if placed on the ground, but the miniature size is just right for holding in your mouth when you need both hands free. (Just don't plan on doing any talking). The scored tubing offers a good grip for hands both large and small. I love small tools that make packing for a camping trip easy and the Mini Maglite is a wonderful pocket-sized pick.
Of all the camping equipment you need to choose, the right flashlight should be at the top of your list. Take the time to choose a quality light that fits your needs and enhances your night in the wild. Your life may depend upon it.